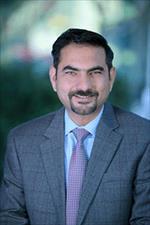 Rohit Kohli
Professor of Pediatrics (Clinical Scholar)
CHL 4640 W. Sunset Blvd.
Off Campus
Los Angeles
Dr. Kohli received his medical degree from the Armed Forces Medical College, India in 1999 and his MS in clinical investigation from Northwestern University in 2006. While at Northwestern he first spent three years as a pediatric gastroenterology and hepatology fellow and then subsequently as a transplant hepatology trainee before relocating to the University of Cincinnati in 2007. He was faculty at Cincinnati Children's and leading the pediatric liver transplant program before he again relocated to USC/Children's Hospital Los Angeles in 2016.

His research work has focused on the pathogenesis of obesity related fatty liver disease (NAFLD). In particular, he has focused upon the role of bile acid signaling as a mechanism for NAFLD resolution after weight loss surgery. His work has also shed light on reactive oxygen stress in the generation and regulation of the extreme stage of this disease; nonalcoholic steatohepatitis (NASH). He has published many peer-reviewed articles including articles in Nature, Nature Reviews, The Journal of Biological Chemistry, Hepatology, Journal of Pediatrics, and The American Journal of Physiology. He is the author of many book chapters and review articles. He also is the recipient of the 2007 George Ferry Young Investigator Award from the Children's Digestive Health and Nutrition Foundation, a Fellowship award from the American Association for the Study of Liver Diseases, Takeda Research Innovation Award from the North American Society for Pediatric Gastroenterology, Hepatology and Nutrition Foundation. He is currently funded by the NIH as an independent scientist through the R01 mechanism.
Rebaudioside affords hepatoprotection ameliorating sugar sweetened beverage- induced nonalcoholic steatohepatitis Sci Rep. 2020 Apr 21; 10(1):6689. . View in PubMed
Hepatic deficiency of augmenter of liver regeneration predisposes to nonalcoholic steatohepatitis and fibrosis Hepatology. 2020 Feb 07. . View in PubMed
Initial assessment and ongoing monitoring of lysosomal acid lipase deficiency in children and adults: Consensus recommendations from an international collaborative working group Mol Genet Metab. 2020 02; 129(2):59-66. . View in PubMed
Designing Clinical Trials in Pediatric Nonalcoholic Steatohepatitis: Tips for Patient Selection and Appropriate Endpoints Hepatol Commun. 2019 Dec; 3(12):1563-1570. . View in PubMed
Severe Late-Onset Acute Cellular Rejection in a Pediatric Patient With Isolated Small Intestinal Transplant Rescued With Aggressive Immunosuppressive Approach: A Case Report Transplant Proc. 2019 Nov; 51(9):3181-3185. . View in PubMed
Immunologic benefit of maternal donors in pediatric living donor liver transplantation Pediatr Transplant. 2019 11; 23(7):e13560. . View in PubMed
Case series and systematic review of acquired diaphragmatic hernia after liver transplantation Pediatr Transplant. 2018 12; 22(8):e13296. . View in PubMed
Postprandial Uridine Physiology Is Altered by Obesity Gastroenterology. 2018 11; 155(5):1645-1646. . View in PubMed
Hepatology. 2018 10; 68(4):1644-1646. . View in PubMed
"Twin" Biliary Trees in a Patient With Heterotaxy Syndrome J Pediatr Gastroenterol Nutr. 2018 06; 66(6):e158. . View in PubMed
Liver transplantation in children: state of the art and future perspectives Arch Dis Child. 2018 02; 103(2):192-198. . View in PubMed
The presence and severity of nonalcoholic steatohepatitis is associated with specific changes in circulating bile acids Hepatology. 2018 02; 67(2):534-548. . View in PubMed
Increased glycine-amidated hyocholic acid correlates to improved early weight loss after sleeve gastrectomy Surg Endosc. 2018 02; 32(2):805-812. . View in PubMed
Quantitative Liver MRI-Biopsy Correlation in Pediatric and Young Adult Patients With Nonalcoholic Fatty Liver Disease: Can One Be Used to Predict the Other? AJR Am J Roentgenol. 2018 Jan; 210(1):166-174.. View in PubMed
Bile acid metabolism and signaling: potential therapeutic target for nonalcoholic fatty liver disease Clin Transl Gastroenterol. 2018 06 29; 9(6):164. . View in PubMed
Response to Letters Regarding the NASPGHAN NAFLD Guidelines J Pediatr Gastroenterol Nutr. 2017 Sep 01. . View in PubMed
Mixed-lineage kinase 3 pharmacological inhibition attenuates murine nonalcoholic steatohepatitis JCI Insight. 2017 Aug 03; 2(15). . View in PubMed
Hepatic Natural Killer T-cell and CD8+ T-cell Signatures in Mice with Nonalcoholic Steatohepatitis Hepatol Commun. 2017 Jun; 1(4):299-310. . View in PubMed
Response to the Letters Regarding the North American Society of Pediatric Gastroenterology, Hepatology and Nutrition NAFLD Guidelines J Pediatr Gastroenterol Nutr. 2017 11; 65(5):e115-e116. . View in PubMed
Hepatic Issues and Complications Associated With Inflammatory Bowel Disease: A Clinical Report From the NASPGHAN Inflammatory Bowel Disease and Hepatology Committees J Pediatr Gastroenterol Nutr. 2017 04; 64(4):639-652. . View in PubMed
NASPGHAN Clinical Practice Guideline for the Diagnosis and Treatment of Nonalcoholic Fatty Liver Disease in Children: Recommendations from the Expert Committee on NAFLD (ECON) and the North American Society of Pediatric Gastroenterology, Hepatology and Nutrition (NASPGHAN) J Pediatr Gastroenterol Nutr. 2017 02; 64(2):319-334. . View in PubMed
Treatment of Inferior Vena Cava Obstruction Following Pediatric Liver Transplantation: Novel Use of a Customized Endovascular Stent J Pediatr. 2017 01; 180:256-260. . View in PubMed
Impact of Fibroblast Growth Factors 19 and 21 in Bariatric Metabolism Dig Dis. 2017; 35(3):191-196. . View in PubMed
Alpha 1-antitrypsin levels can differentiate allelic phenotypes Dig Liver Dis. 2016 Dec; 48(12):1510-1511. . View in PubMed
Prospective Assessment of Correlation between US Acoustic Radiation Force Impulse and MR Elastography in a Pediatric Population: Dispersion of US Shear-Wave Speed Measurement Matters Radiology. 2016 Nov; 281(2):544-552. . View in PubMed
In Children With Nonalcoholic Fatty Liver Disease, Cysteamine Bitartrate Delayed Release Improves Liver Enzymes but Does Not Reduce Disease Activity ScoresGastroenterology. 2016 12; 151(6):1141-1154. e9. . View in PubMed
Fibroblast growth factor 21 correlates with weight loss after vertical sleeve gastrectomy in adolescents Obesity (Silver Spring). 2016 11; 24(11):2377-2383. . View in PubMed
Lysosomal Acid Lipase Deficiency Unmasked in Two Children With Nonalcoholic Fatty Liver Disease Pediatrics. 2016 10; 138(4). . View in PubMed
Pediatric Nonalcoholic Fatty Liver Disease: A Report from the Expert Committee on Nonalcoholic Fatty Liver Disease (ECON) J Pediatr. 2016 05; 172:9-13. . View in PubMed
Bariatric Surgery: The Rise and Fall of Bile Acids Surg Obes Relat Dis. 2016 05; 12(4):770-771. . View in PubMed
Let the bile flow! Hepatology 2015 Dec; 62(6):1870. . View in PubMed
Familial homozygous hypercholesterolemia: When to turn to transplant? Pediatr Transplant. 2015 Sep; 19(6):577-9.. View in PubMed
Neurologic outcome of urea cycle disorder liver transplant recipients may be predicted by pretransplant neurological imaging Pediatr Transplant. 2015 Aug; 19(5):527-30. . View in PubMed
The evaluation of hepatic fibrosis scores in children with nonalcoholic fatty liver disease Dig Dis Sci. 2015 May; 60(5):1440-7. . View in PubMed
Improvement in liver histology is associated with reduction in dyslipidemia in children with nonalcoholic fatty liver disease J Pediatr Gastroenterol Nutr. 2015 Mar; 60(3):360-7. . View in PubMed
Bile Acid Signaling: Mechanism for Bariatric Surgery, Cure for NASH? Dig Dis. 2015; 33(3):440-6.. View in PubMed
The role of small heterodimer partner in nonalcoholic fatty liver disease improvement after sleeve gastrectomy in mice Obesity (Silver Spring). 2014 Nov; 22(11):2301-11. . View in PubMed
Effect of guanylate cyclase-C activity on energy and glucose homeostasis Diabetes. 2014 Nov; 63(11):3798-804. . View in PubMed
Duodenal nutrient exclusion improves metabolic syndrome and stimulates villus hyperplasia Gut. 2014 Aug; 63(8):1238-46. . View in PubMed
High prevalence of hepatitis B non-immunity in paediatric non-alcoholic fatty liver disease patients Dig Liver Dis. 2014 Aug; 46(8):760-1. . View in PubMed
NHE1 deficiency in liver: implications for non-alcoholic fatty liver disease Biochem Biophys Res Commun. 2014 Jul 25; 450(2):1027-31. . View in PubMed
FXR is a molecular target for the effects of vertical sleeve gastrectomy Nature. 2014 May 08; 509(7499):183-8. . View in PubMed
IL-17 signaling accelerates the progression of nonalcoholic fatty liver disease in mice Hepatology. 2014 May; 59(5):1830-9. . View in PubMed
There's more under the nonalcoholic fatty liver disease umbrella than an elevated alanine aminotransferase level J Pediatr. 2014 Apr; 164(4):684-6. . View in PubMed
Mixed lineage kinase 3 deficient mice are protected against the high fat high carbohydrate diet-induced steatohepatitis Liver Int. 2014 Mar; 34(3):427-37. . View in PubMed
Vertical sleeve gastrectomy reduces hepatic steatosis while increasing serum bile acids in a weight-loss-independent manner Obesity (Silver Spring). 2014 Feb; 22(2):390-400. . View in PubMed
Use of magnetic resonance elastography to assess hepatic fibrosis in children with chronic liver disease J Pediatr. 2014 Jan; 164(1):186-8. . View in PubMed
Diabetes: the search for mechanisms underlying bariatric surgery Nat Rev Endocrinol. 2013 Oct; 9(10):572-4. . View in PubMed
MLK3 promotes metabolic dysfunction induced by saturated fatty acid-enriched diet Am J Physiol Endocrinol Metab. 2013 Aug 15; 305(4):E549-56. . View in PubMed
A surgical model in male obese rats uncovers protective effects of bile acids post-bariatric surgery Endocrinology. 2013 Jul; 154(7):2341-51. . View in PubMed
A multidisciplinary clinical program is effective in stabilizing BMI and reducing transaminase levels in pediatric patients with NAFLD J Pediatr Gastroenterol Nutr. 2013 Jul; 57(1):119-23. . View in PubMed
Weight loss induced by Roux-en-Y gastric bypass but not laparoscopic adjustable gastric banding increases circulating bile acids J Clin Endocrinol Metab. 2013 Apr; 98(4):E708-12. . View in PubMed
Fatty liver disease in children--what should one do? Indian J Pediatr. 2013 Mar; 80 Suppl 1:S109-14.. View in PubMed
Isolated unilateral cytomegalovirus retinitis: a rare long-term complication after pediatric liver transplantation Pediatr Transplant. 2013 Feb; 17(1):E16-9. . View in PubMed
Advances in the surgical treatment of morbid obesity Mol Aspects Med. 2013 Feb; 34(1):84-94. . View in PubMed
Fibroblast growth factor-19 action in the brain reduces food intake and body weight and improves glucose tolerance in male rats Endocrinology. 2013 Jan; 154(1):9-15. . View in PubMed
An adolescent girl with belly pain: one gallbladder too many? J Pediatr Gastroenterol Nutr. 2012 Dec; 55(6):e142.. View in PubMed
The role of the gut hormone GLP-1 in the metabolic improvements caused by ileal transposition J Surg Res. 2012 Nov; 178(1):33-9. . View in PubMed
Treating pediatric nonalcoholic fatty liver disease with cysteamine: is adiponectin the key? J Pediatr. 2012 Oct; 161(4):579-81.. View in PubMed
Pediatric nonalcoholic fatty liver disease: Prevalence, diagnosis, risk factors, and management Clin Liver Dis (Hoboken). 2012 Sep; 1(4):125-128. . View in PubMed
Retrospective review of the incidence of cytomegalovirus infection and disease after liver transplantation in pediatric patients: comparison of prophylactic oral ganciclovir and oral valganciclovir Liver Transpl. 2012 Mar; 18(3):347-54. . View in PubMed
Insulin concentration modulates hepatic lipid accumulation in mice in part via transcriptional regulation of fatty acid transport proteins PLoS One. 2012; 7(6):e38952. . View in PubMed
NASH animal models: are we there yet? J Hepatol. 2011 Oct; 55(4):941-3.. View in PubMed
Molecular insights from bariatric surgery Rev Endocr Metab Disord. 2011 Sep; 12(3):211-7. . View in PubMed
Mechanisms of lipotoxicity in NAFLD and clinical implications J Pediatr Gastroenterol Nutr. 2011 Aug; 53(2):131-40. . View in PubMed
Relations of steatosis type, grade, and zonality to histological features in pediatric nonalcoholic fatty liver disease J Pediatr Gastroenterol Nutr. 2011 Feb; 52(2):190-7. . View in PubMed
Intestinal adaptation after ileal interposition surgery increases bile acid recycling and protects against obesity-related comorbidities Am J Physiol Gastrointest Liver Physiol. 2010 Sep; 299(3):G652-60. . View in PubMed
High-fructose, medium chain trans fat diet induces liver fibrosis and elevates plasma coenzyme Q9 in a novel murine model of obesity and nonalcoholic steatohepatitis Hepatology. 2010 Sep; 52(3):934-44. . View in PubMed
Rapid progression of NASH in childhood J Pediatr Gastroenterol Nutr. 2010 Apr; 50(4):453-6. . View in PubMed
Nonalcoholic steatohepatitis in children: a multicenter clinicopathological study Hepatology. 2009 Oct; 50(4):1113-20. . View in PubMed
Mitochondrial reactive oxygen species signal hepatocyte steatosis by regulating the phosphatidylinositol 3-kinase cell survival pathway J Biol Chem. 2007 Jul 20; 282(29):21327-36. . View in PubMed
Roles of phosphatidylinositol 3-kinase and osteopontin in steatosis and aminotransferase release by hepatocytes treated with methionine-choline-deficient medium Am J Physiol Gastrointest Liver Physiol. 2006 Jul; 291(1):G55-62. . View in PubMed
Carnitine treatment inhibits increases in cerebral carnitine esters and glutamate detected by mass spectrometry after hypoxia-ischemia in newborn rats Stroke. 2006 Feb; 37(2):524-30. . View in PubMed
Mesalamine-induced pneumonitis during therapy for chronic inflammatory bowel disease: a pediatric case report J Pediatr Gastroenterol Nutr. 2005 Oct; 41(4):479-82. . View in PubMed
Relative elevations of serum alanine and aspartate aminotransferase in muscular dystrophy J Pediatr Gastroenterol Nutr. 2005 Jul; 41(1):121-4. . View in PubMed
Differential diagnosis of recurrent abdominal pain: new considerations Pediatr Ann. 2004 Feb; 33(2):113-22. . View in PubMed