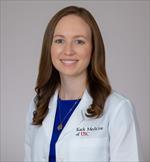 Sarah Koller
Assistant Professor of Clinical Surgery
Surgery
1520 San Pablo St.
Health Sciences Campus
Los Angeles
Contact
A Novel Technique for the Repair of End Ileostomy Retraction Dis Colon Rectum. 2022 02 01; 65(2):e70. . View in PubMed
LigaSure™ haemorrhoidectomy and the risk of postoperative bleeding Colorectal Dis. 2021 10; 23(10):2699-2705. . View in PubMed
COVID-19 Impact on Colorectal Daily Practice-How Long Will It Take to Catch Up? J Gastrointest Surg. 2021 01; 25(1):260-268.. View in PubMed
Sarah Koller, MD, MS, earned her BS in biology from Villanova University and her medical degree from Drexel University College of Medicine. She completed a general surgery residency at Temple University Hospital, during which time she also earned a Master of Science in Clinical Research. She investigated ways to reduce post-operative complications after colorectal surgery, published in several peer-review journals, and presented at national conferences. Dr. Koller completed fellowship training in Colon and Rectal Surgery at the University of Southern California.

Dr. Koller uses innovative surgical techniques that employ the least invasive methods available, such as laparoscopic/robotic surgery and advanced endoscopy, to treat all diseases of the colon and rectum. She also specializes in treating anorectal conditions and pelvic floor disorders, including fecal incontinence and rectal prolapse.

Dr. Koller approaches each individual patient with respect and compassion, ensuring that they understand their disease and their treatment options, and partners with them to create personalized treatment plans.