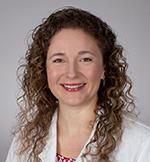 Sigita Cahoon
Assistant Professor of Clinical Obstetrics & Gynecology
Co-Director of Labor & Delivery,
Obstetrics & Gynecology
IRD 220 2020 Zonal Ave
Off Campus
Los Angeles
Contact
Uptake of postplacental intrauterine device placement at cesarean delivery AJOG Glob Rep. 2023 Feb; 3(1):100157. . View in PubMed
Metastatic extent-specific prognosis of women with stage IVB cervical cancer: multiple versus single distant organ involvement Arch Gynecol Obstet. 2023 02; 307(2):533-540. . View in PubMed
Endometrial cancer arising in adenomyosis versus endometrial cancer coexisting with adenomyosis: are these two different entities? Arch Gynecol Obstet. 2017 Jun; 295(6):1459-1468.. View in PubMed
Association of Low-Dose Aspirin and Survival of Women With Endometrial Cancer Obstet Gynecol. 2016 Jul; 128(1):127-137. . View in PubMed
Surgical menopause and increased risk of nonalcoholic fatty liver disease in endometrial cancer Menopause. 2016 Feb; 23(2):189-96. . View in PubMed
Weight Change Pattern and Survival Outcome of Women with Endometrial Cancer Ann Surg Oncol. 2016 09; 23(9):2988-97. . View in PubMed
Contributing factors for menopausal symptoms after surgical staging for endometrial cancer Menopause. 2016 05; 23(5):535-43. . View in PubMed
Significance of adenomyosis on tumor progression and survival outcome of endometrial cancer Ann Surg Oncol. 2014 Dec; 21(13):4246-55. . View in PubMed
Feto-maternal outcomes of pregnancy complicated by ovarian malignant germ cell tumor: a systematic review of literature Eur J Obstet Gynecol Reprod Biol. 2014 Oct; 181:145-56. . View in PubMed
Dr. Cahoon received her BA in Biology at Boston University and her MD from the University of Miami. She completed her residency in Obstetrics and Gynecology at LAC+USC Medical Center, followed by a fellowship in Global Women's Health at LAC+USC, while also completing her MPH through USC. She is Board Certified in her specialty and is a Fellow of the American Congress of Obstetricians and Gynecologists.

As Assistant Professor of Clinical Obstetrics & Gynecology, Dr. Cahoon is dedicated to educating residents and medical students on labor and delivery, in the operating room, and in the clinic. She also coordinates reproductive health education for pre-clinical medical students. Dr. Cahoon's research interests focus on addressing social determinants of health and reproductive health disparities, including healthcare delivery for incarcerated women. She also has a strong interest in global health, and has worked on cervical cancer prevention, contraception, and prenatal care delivery in low-resource settings, and has conducted projects in Uganda, Panama, Haiti, and Nepal, as well as Los Angeles.