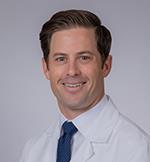 Alexander B Peterson
Assistant Professor of Clinical Orthopaedic Surgery
Orthopaedic Surgery
1537 Norfolk St.
Health Sciences Campus
Los Angeles
Contact
Suture Tape Augmentation in Lateral Ankle Ligament Surgery: Current Concepts Review Foot Ankle Orthop. 2021 Oct; 6(4):24730114211045978. . View in PubMed
Return to Sport Following Operative Treatment of Displaced Medial Sesamoid Fractures in NCAA Division I Football Players Foot Ankle Int. 2021 May; 42(5):654-657. . View in PubMed
Minimally Invasive Dorsal Cheilectomy and Hallux Metatarsal Phalangeal Joint Arthroscopy for the Treatment of Hallux Rigidus Foot Ankle Orthop. 2021 Jan; 6(1):2473011421993103. . View in PubMed
Posterior shoulder tightness can be a risk factor of scapular malposition: a cadaveric biomechanical study J Shoulder Elbow Surg. 2020 Jan; 29(1):175-184. . View in PubMed
Minimally Important Difference in the Foot and Ankle Outcome Score Among Patients Undergoing Hallux Valgus Surgery Foot Ankle Int. 2019 Jun; 40(6):694-701. . View in PubMed
Validation of the Ankle Osteoarthritis Scale Instrument for Preoperative Evaluation of End-Stage Ankle Arthritis Patients Using Item Response Theory Foot Ankle Int. 2019 Apr; 40(4):422-429. . View in PubMed
A biomechanical cadaveric study comparing superior capsule reconstruction using fascia lata allograft with human dermal allograft for irreparable rotator cuff tear J Shoulder Elbow Surg. 2017 Dec; 26(12):2158-2166. . View in PubMed
Knotless Transosseous-Equivalent Rotator Cuff Repair Improves Biomechanical Self-reinforcement Without Diminishing Footprint Contact Compared With Medial Knotted Repair Arthroscopy. 2017 Aug; 33(8):1473-1481. . View in PubMed
Partial-thickness tears involving the rotator cable lead to abnormal glenohumeral kinematics J Shoulder Elbow Surg. 2017 Jul; 26(7):1152-1158. . View in PubMed
Biomechanical Effects of Capsular Shift in the Treatment of Hip Microinstability: Creation and Testing of a Novel Hip Instability Model Am J Sports Med. 2016 Mar; 44(3):689-95. . View in PubMed
Intermittent hypoxia and hypercapnia induce pulmonary artery atherosclerosis and ventricular dysfunction in low density lipoprotein receptor deficient mice J Appl Physiol (1985). 2013 Dec; 115(11):1694-704. . View in PubMed
Dr. Peterson is an orthopedic surgeon who specializes in the treatment of patients with problems of the foot and ankle as well as general musculoskeletal ailments. He offers customized nonoperative and surgical solutions for a multitude of conditions. Having completed a dedicated fellowship in foot and ankle surgery, Dr. Peterson provides expertise in specialized and cutting-edge procedures. His areas of clinical interest include arthritis of the foot and ankle, total ankle replacements, bunions, the treatment of sports injuries and fractures, as well as the correction of acquired and congenital deformity.

Dr. Peterson believes that the path to optimal care requires input from both the patient and their physician. He has a significant interest in clinical research to advance the care of his patients. He is dedicated to properly educating his patients about their conditions, empowering them to make an informed decision about their customized treatment plan. He is passionate about optimizing results, whether the patient is an elite athlete or simply striving to walk without pain.