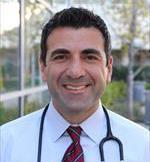 Ara Balkian
Clinical Associate Professor of Pediatrics (Clinician Educator)
Pediatrics
CHl 4650 W Sunset Blvd
Off Campus
Los Angeles
Contact
A Quality Improvement Collaborative to Improve the Discharge Process for Hospitalized Children Pediatrics. 2016 08; 138(2). . View in PubMed
Nebulized hypertonic saline for bronchiolitis: a randomized clinical trial JAMA Pediatr. 2014 Jul; 168(7):657-63. . View in PubMed
Pediatric anaplastic large cell lymphoma presenting as generalized lymphadenopathy Oncology (Williston Park). 2010 Sep; 24(10):954-6958. . View in PubMed
Ara Balkian received his MD from the Jefferson Medical College at Thomas Jefferson University in Philadelphia in 1999. Following graduation, he moved to California, joining Children's Hospital Los Angeles (CHLA) where he completed his internship, residency, and chief residency. Ara stayed on to start a hospitalist program and was the first and only hospitalist at CHLA for a number of years. The Division of Hospital Medicine he created now has 33 physicians and a Hospital Medicine fellowship training program.

In 2003, Ara began working on 'Discharge Management' at CHLA due to increasing capacity demands and the need to get patients discharged in a timely manner. Over the years, his role expanded to create process improvements on the admission and hospital stay components at CHLA and has evolved into an overall Throughput Management effort.

Following increased business and administrative demands, Ara went back to school and received his MBA from the Marshall School of Business at the University of Southern California in 2010.

Currently, Ara's clinical responsibilities include supervising house staff and medical students as the ward attending in the inpatient setting, as well as caring for patients on the attending-only hospitalist service. Ara is the associate head of the Division of Hospital Medicine, and the Director of Throughput Management at CHLA. In that role, he oversees efforts to revamp the patient access process, and is working on a comprehensive Utilization Management overhaul at CHLA. Ara's work now involves almost every component (pre-admission through post-discharge) of the throughput process.