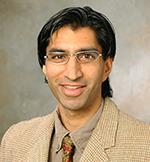 Arun P. Amar
Associate Professor of Clinical Neurological Surgery
Director of Endovascular Services, Keck Hospital of USC
Neurosurgery
1937 Hospital Place
Off Campus
Los Angeles
Contact
Anatomic Considerations Guiding Single Versus Multiportal Endoscopic Approaches for Resection of Juvenile Nasopharyngeal Angiofibroma: Cases Series With Graded Multicorridor Resections Oper Neurosurg (Hagerstown). 2023 08 01; 25(2):150-160. . View in PubMed
Combined open revascularization and endovascular treatment of complex intracranial aneurysms: case series Front Neurol. 2023; 14:1102496. . View in PubMed
Neuroprotective effect of minocycline against acute brain injury in clinical practice: A systematic review J Clin Neurosci. 2021 Apr; 86:50-57. . View in PubMed
Semiautomatic cerebrovascular territory mapping based on dynamic ASL MR angiography without vessel-encoded labeling Magn Reson Med. 2021 05; 85(5):2735-2746. . View in PubMed
Unusual Pattern of Arterial Macrothrombosis Causing Stroke in a Young Adult Recovered from COVID-19 J Stroke Cerebrovasc Dis. 2020 Dec; 29(12):105353. . View in PubMed
Comparison of Rates and Outcomes of Readmission to Index vs Non-index Hospitals After Intravenous Thrombolysis in Acute Stroke Patients Cureus. 2020 Jul 01; 12(7):e8952. . View in PubMed
Frequency, predictors, and outcomes of readmission to index versus non-index hospitals after mechanical thrombectomy in patients with ischemic stroke J Neurointerv Surg. 2020 Feb; 12(2):136-141. . View in PubMed
Discrepancy in Neurologic Outcomes Following Aneurysmal Subarachnoid Hemorrhage as a Function of Socioeconomic Class World Neurosurg. 2020 06; 138:e787-e794. . View in PubMed
Nonindex Readmission After Ruptured Brain Aneurysm Treatment Is Associated with Higher Morbidity and Repeat Readmission World Neurosurg. 2019 Oct; 130:e753-e759. . View in PubMed
Predictors of Venous Thromboembolism After Nonemergent Craniotomy: A Nationwide Readmission Database Analysis World Neurosurg. 2019 Feb; 122:e1102-e1110. . View in PubMed
Quantification of intracranial arterial blood flow using noncontrast enhanced 4D dynamic MR angiography Magn Reson Med. 2019 07; 82(1):449-459. . View in PubMed
Increased Hospital Surgical Volume Reduces Rate of 30- and 90-Day Readmission After Acoustic Neuroma Surgery Neurosurgery. 2019 03 01; 84(3):726-732. . View in PubMed
A3-A3 Anastomosis in the Management of Complex Anterior Cerebral Artery Aneurysms: Experience With in Situ Bypass and Lessons Learned From Pseudoaneurysm Cases Oper Neurosurg (Hagerstown). 2019 09 01; 17(3):247-260. . View in PubMed
Treatment at Safety-Net Hospitals Is Associated with Delays in Coil Embolization in Patients with Subarachnoid Hemorrhage World Neurosurg. 2018 Dec; 120:e434-e439. . View in PubMed
Safety-Net Hospitals Have Higher Complication and Mortality Rates in the Neurosurgical Management of Traumatic Brain Injuries World Neurosurg. 2018 Nov; 119:e284-e293. . View in PubMed
Angiographic and clinical outcomes of balloon remodeling versus unassisted coil embolization in the ruptured aneurysm cohort of the GEL THE NEC study J Neurointerv Surg. 2018 May; 10(5):446-450. . View in PubMed
Botulinum toxin to improve vessel graft patency in cerebral revascularization surgery: report of 3 cases J Neurosurg. 2018 Feb 01; 1-7. . View in PubMed
Efficacy and Outcomes of Posterior Inferior Cerebellar Artery (PICA) Bypass for Proximal PICA and Vertebral Artery-PICA Aneurysms: A Case Series Oper Neurosurg (Hagerstown). 2018 10 01; 15(4):395-403. . View in PubMed
Neuropharmacology. 2018 05 15; 134(Pt B):293-301. . View in PubMed
Fusiform vertebral artery aneurysms involving the posterior inferior cerebellar artery origin associated with the sole angiographic anterior spinal artery origin: technical case report and treatment paradigm proposal J Neurosurg. 2018 10 01; 1-7. . View in PubMed
Descending Branch of the Lateral Circumflex Femoral Artery Graft for Posterior Inferior Cerebellar Artery Revascularization Oper Neurosurg (Hagerstown). 2018 09 01; 15(3):285-291. . View in PubMed
Commentary: Trends in the Use of Deep Brain Stimulation for Parkinson Disease Neurosurgery. 2018 12 01; 83(6):E244-E256. . View in PubMed
GEL THE NEC: a prospective registry evaluating the safety, ease of use, and efficacy of the HydroSoft coil as a finishing device J Neurointerv Surg. 2018 Jan; 10(1):83-87. . View in PubMed
In situ administration of abciximab for thrombus resolution during intracranial bypass surgery: case report J Neurosurg. 2018 01 19; 130(1):268-272. . View in PubMed
Intraoperative Imaging for Vascular Lesions Neurosurg Clin N Am. 2017 Oct; 28(4):603-613. . View in PubMed
Increasing awareness with recognition of pulsatile tinnitus for nurse practitioners in the primary care setting: A case study J Am Assoc Nurse Pract. 2017 Sep; 29(9):506-513. . View in PubMed
Neuroprotective delivery platforms as an adjunct to mechanical thrombectomy Neurosurg Focus. 2017 Apr; 42(4):E4. . View in PubMed
Impact of the 2003 ACGME Resident Duty Hour Reform on Hospital-Acquired Conditions: A National Retrospective Analysis J Grad Med Educ. 2017 Apr; 9(2):215-221. . View in PubMed
Trends in Ventriculostomy-Associated Infections and Mortality in Aneurysmal Subarachnoid Hemorrhage: Data From the Nationwide Inpatient Sample World Neurosurg. 2017 Mar; 99:599-604. . View in PubMed
Trends in the use of pulmonary artery catheterization in the aneurysmal subarachnoid hemorrhage population J Clin Neurosci. 2016 Sep; 31:133-6. . View in PubMed
Evaluation of time to aneurysm treatment following subarachnoid hemorrhage: comparison of patients treated with clipping versus coiling J Neurointerv Surg. 2016 Apr; 8(4):373-7. . View in PubMed
The importance of preoperative diagnosis of blister aneurysms J Clin Neurosci. 2015 Sep; 22(9):1408-12. . View in PubMed
Racial and socioeconomic disparities in outcomes following pediatric cerebrospinal fluid shunt procedures J Neurosurg Pediatr. 2015 Jun; 15(6):560-6. . View in PubMed
Incidence of "never events" among weekend admissions versus weekday admissions to US hospitals: national analysis BMJ. 2015 Apr 15; 350:h1460. . View in PubMed
Evidence-based guidelines for the management of large hemispheric infarction : a statement for health care professionals from the Neurocritical Care Society and the German Society for Neuro-intensive Care and Emergency Medicine Neurocrit Care. 2015 Feb; 22(1):146-64. . View in PubMed
Theoretical Basis of Vagus Nerve Stimulation Prog Neurol Surg. 2015; 29:20-8. . View in PubMed
Angioarchitectural evolution of clival dural arteriovenous fistulas in two patients Case Rep Ophthalmol. 2015 Jan-Apr; 6(1):93-100. . View in PubMed
Combined neurothrombectomy or thrombolysis with adjunctive delivery of 3K3A-activated protein C in acute ischemic stroke Front Cell Neurosci. 2015; 9:344. . View in PubMed
Health disparities in time to aneurysm clipping/coiling among aneurysmal subarachnoid hemorrhage patients: a national study World Neurosurg. 2014 Dec; 82(6):1071-6. . View in PubMed
The impact of patient age and comorbidities on the occurrence of "never events" in cerebrovascular surgery: an analysis of the Nationwide Inpatient Sample J Neurosurg. 2014 Sep; 121(3):580-6. . View in PubMed
A persistent primitive hypoglossal artery arising from the external carotid artery associated with subarachnoid hemorrhageWorld Neurosurg. 2014 Jul-Aug; 82(1-2):239. e1-3. . View in PubMed
Balloon-assisted transarterial embolization of type 1 spinal dural arteriovenous fistula Neurosurg Focus. 2014 Jul; 37(1 Suppl):1. . View in PubMed
Transarterial embolization of an anterior fossa cranial base dural arteriovenous fistula Neurosurg Focus. 2014 Jul; 37(1 Suppl):1. . View in PubMed
Racial and socioeconomic disparities in incidence of hospital-acquired complications following cerebrovascular procedures Neurosurgery. 2014 Jul; 75(1):43-50. . View in PubMed
Argonaute-2 promotes miR-18a entry in human brain endothelial cells J Am Heart Assoc. 2014 May 16; 3(3):e000968. . View in PubMed
Complications of endovascular treatment for acute stroke in the SWIFT trial with solitaire and Merci devices AJNR Am J Neuroradiol. 2014 Mar; 35(3):524-8. . View in PubMed
Racial and socioeconomic disparities in access to mechanical revascularization procedures for acute ischemic stroke J Stroke Cerebrovasc Dis. 2014 Feb; 23(2):327-34. . View in PubMed
MicroRNA-18a improves human cerebral arteriovenous malformation endothelial cell function Stroke. 2014 Jan; 45(1):293-7. . View in PubMed
Mechanical thrombectomy in acute stroke: utilization variances and impact of procedural volume on inpatient mortality J Stroke Cerebrovasc Dis. 2013 Nov; 22(8):1263-9. . View in PubMed
Computed tomography for clearance of cervical spine injury in the unevaluable patient World Neurosurg. 2013 Sep-Oct; 80(3-4):405-13. . View in PubMed
Delayed cavernous carotid artery pseudoaneurysm caused by absorbable plate following transsphenoidal surgery: case report and review of the literature J Neurol Surg Rep. 2013 Jun; 74(1):10-6. . View in PubMed
Neurosurgery in India: past as prologue World Neurosurg. 2013 May-Jun; 79(5-6):613-4. . View in PubMed
Matrix Metalloproteinases in Cerebral Vasospasm following Aneurysmal Subarachnoid Hemorrhage Neurol Res Int. 2013; 2013:943761. . View in PubMed
Advanced imaging modalities in the detection of cerebral vasospasm Neurol Res Int. 2013; 2013:415960. . View in PubMed
Medical Management of Cerebral Vasospasm following Aneurysmal Subarachnoid Hemorrhage: A Review of Current and Emerging Therapeutic Interventions Neurol Res Int. 2013; 2013:462491. . View in PubMed
Cerebral vasospasm in traumatic brain injury Neurol Res Int. 2013; 2013:415813. . View in PubMed
Recurrence of "cured" dural arteriovenous fistulas after Onyx embolization Neurosurg Focus. 2012 May; 32(5):E12. . View in PubMed
Vascular fistulas of the brain and spinal cord Neurosurg Focus. 2012 May; 32(5):Introduction. . View in PubMed
Controversies in the neurosurgical management of cerebellar hemorrhage and infarction Neurosurg Focus. 2012 Apr; 32(4):E1. . View in PubMed
Brain and vascular imaging of acute stroke World Neurosurg. 2011 Dec; 76(6 Suppl):S3-8. . View in PubMed
Mechanical thrombectomy for acute ischemic stroke using the MERCI retriever and penumbra aspiration systems World Neurosurg. 2011 Dec; 76(6 Suppl):S16-23. . View in PubMed
Cerebral arteriovenous malformations: issues of the interplay between stereotactic radiosurgery and endovascular surgical therapy World Neurosurg. 2011 May-Jun; 75(5-6):638-47. . View in PubMed
Vagus nerve stimulation therapy in patients with autism spectrum disorder and intractable epilepsy: results from the vagus nerve stimulation therapy patient outcome registry J Neurosurg Pediatr. 2010 Jun; 5(6):595-602. . View in PubMed
Shape memory alloys: metallurgy, biocompatibility, and biomechanics for neurosurgical applications Neurosurgery. 2009 May; 64(5 Suppl 2):199-214; discussion 214-5. . View in PubMed
Surgery of the mind and mood: a mosaic of issues in time and evolution Neurosurgery. 2008 Jun; 62(6 Suppl 3):921-40. . View in PubMed
Vagus nerve stimulation therapy after failed cranial surgery for intractable epilepsy: results from the vagus nerve stimulation therapy patient outcome registry Neurosurgery. 2008 Feb; 62 Suppl 2:506-13. . View in PubMed
Vagus nerve stimulation for the treatment of intractable epilepsy Expert Rev Neurother. 2007 Dec; 7(12):1763-73. . View in PubMed
A novel technique and new grading scale for the embolization of cerebral vascular malformations Neurosurgery. 2006 Nov; 59(5 Suppl 3):S158-62; discussion S3-13. . View in PubMed
Surgery of the mind and mood: a mosaic of issues in time and evolution Neurosurgery. 2006 Oct; 59(4):720-33; discussion 733-9. . View in PubMed
Molecular genetic analysis of two large kindreds with intracranial aneurysms demonstrates linkage to 11q24-25 and 14q23-31 Stroke. 2006 Apr; 37(4):1021-7. . View in PubMed
Survival, hemodynamics, and tissue oxygenation after head trauma J Am Coll Surg. 2006 Jan; 202(1):120-30. . View in PubMed
Gunshot wounds to the spine in adolescents Neurosurgery. 2005 Oct; 57(4):748-52; discussion 748-52. . View in PubMed
Hypertension, age, and location predict rupture of small intracranial aneurysms Neurosurgery. 2005 Oct; 57(4):676-83; discussion 676-83. . View in PubMed
Percutaneous spinal interventions Neurosurg Clin N Am. 2005 Jul; 16(3):561-8vii. . View in PubMed
Long-term neurological, visual, and endocrine outcomes following transnasal resection of craniopharyngioma J Neurosurg. 2005 Apr; 102(4):650-7. . View in PubMed
Vagus nerve stimulation therapy after failed cranial surgery for intractable epilepsy: results from the vagus nerve stimulation therapy patient outcome registry Neurosurgery. 2004 Nov; 55(5):1086-93. . View in PubMed
Hydrocephalus in children with middle fossa arachnoid cysts J Neurosurg. 2004 Aug; 101(1 Suppl):25-31. . View in PubMed
Use of a screw-syringe injector for cement delivery during kyphoplasty: technical report Neurosurgery. 2003 Aug; 53(2):380-2; discussion 383. . View in PubMed
Neonatal subgaleal hematoma causing brain compression: report of two cases and review of the literature Neurosurgery. 2003 Jun; 52(6):1470-4; discussion 1474. . View in PubMed
Endovascular restorative neurosurgery: a novel concept for molecular and cellular therapy of the nervous system Neurosurgery. 2003 Feb; 52(2):402-12; discussion 412-3. . View in PubMed
Vagus nerve stimulation therapy for patients with persistent seizures after epilepsy surgery Stereotact Funct Neurosurg. 2003; 80(1-4):9-13. . View in PubMed
Pituitary anatomy and physiology Neurosurg Clin N Am. 2003 Jan; 14(1):11-23v. . View in PubMed
Honored guest presentation: neurorestoration and the emergence of molecular and cellular neurosurgery Clin Neurosurg. 2002; 49:274-315. . View in PubMed
Microcatheterization of the cervical epidural space via lumbar puncture: technical note Neurosurgery. 2001 May; 48(5):1183-7. . View in PubMed
Anti-inflammatory, antithrombotic, and neuroprotective effects of activated protein C in a murine model of focal ischemic stroke Circulation. 2001 Apr 03; 103(13):1799-805. . View in PubMed
Vagus nerve stimulation for control of intractable seizures in childhood Pediatr Neurosurg. 2001 Apr; 34(4):218-23. . View in PubMed
Treatment of central nervous system infections: a neurosurgical perspective Neuroimaging Clin N Am. 2000 May; 10(2):445-59. . View in PubMed
A quick, simple, and inexpensive method of surgical navigation for superficial intracranial targets Surg Neurol. 1999 Nov; 52(5):530-1. . View in PubMed
The development of anatomic art and sciences: the ceroplastica anatomic models of La Specola Neurosurgery. 1999 Oct; 45(4):883-91; discussion 891-2. . View in PubMed
Invasive pituitary adenomas: significance of proliferation parameters Pituitary. 1999 Aug; 2(2):117-22. . View in PubMed
Experience with vagus nerve stimulation for intractable epilepsy: some questions and answers Neurol Med Chir (Tokyo). 1999 Jul; 39(7):489-95. . View in PubMed
Evaluation of lymph node reactivity in differentiated thyroid carcinoma Sao Paulo Med J. 1999 May 06; 117(3):125-8. . View in PubMed
Surgical controversies in the management of spinal cord injury J Am Coll Surg. 1999 May; 188(5):550-66. . View in PubMed
Pathogenesis and pharmacological strategies for mitigating secondary damage in acute spinal cord injury Neurosurgery. 1999 May; 44(5):1027-39; discussion 1039-40. . View in PubMed
Virtual endoscopic environments in modern neurosurgical practice Neurosurg Focus. 1999 Apr 15; 6(4):e11. . View in PubMed
Long-term multicenter experience with vagus nerve stimulation for intractable partial seizures: results of the XE5 trial Stereotact Funct Neurosurg. 1999; 73(1-4):104-8. . View in PubMed
Gutenberg's Bible: past as prologue Neurosurgery. 1999 Jan; 44(1):2-4. . View in PubMed
Iatrogenic vertebrobasilar insufficiency after surgery of the subclavian or brachial artery: review of three cases Neurosurgery. 1998 Dec; 43(6):1450-7; discussion 1457-8. . View in PubMed
An institutional experience with cervical vagus nerve trunk stimulation for medically refractory epilepsy: rationale, technique, and outcome Neurosurgery. 1998 Dec; 43(6):1265-76; discussion 1276-80. . View in PubMed
Nonmyeloablative stem cell transplantation and cell therapy as an alternative to conventional bone marrow transplantation with lethal cytoreduction for the treatment of malignant and nonmalignant hematologic diseases Blood. 1998 Feb 01; 91(3):756-63. . View in PubMed
The use of oxidized regenerated cellulose in neurosurgical procedures Surg Technol Int. 1998; 7:467-71. . View in PubMed
Development of an in vitro extracellular matrix assay for studies of brain tumor cell invasion J Neurooncol. 1994; 20(1):1-15. . View in PubMed
[Clinical and epidemiological characteristics of squamous cell carcinoma of the oral cavity in women] Rev Assoc Med Bras (1992). 2001 Jul-Sep; 47(3):208-14. . View in PubMed
[Anatomic pecularities of the inguinal canal in West IndiansInfluence on the management of inguinal hernia]. J Chir (Paris). 1990 Apr; 127(4):216-9. . View in PubMed
[Surgical treatment of Basedow's diseaseII--Evaluation of 36 subtotal thyroidectomies]. Ann Otolaryngol Chir Cervicofac. 1984; 101(7):515-22. . View in PubMed
Arun Amar, MD, is an associate professor and the Director of Endovascular Neurosurgery at the University of Southern California. He also serves as Stroke Director and Associate Chief of Neurosurgery at the LAC+USC Medical Center. He is one of the few board-certified neurosurgeons who have completed fellowship training in interventional neuroradiology as well.

Dr. Amar graduated summa cum laude with distinction in philosophy from Yale University, where he was elected to the phi beta kappa society. He then graduated at the top of his class from the University of California San Francisco, where he earned the MD with Thesis degree based on original research he performed at their renowned Brain Tumor Research Center. Dr. Amar completed neurosurgery residency and fellowship training at USC. Concurrently, he enrolled in the PhD program in Physiology and Biophysics and was awarded a pre-doctoral fellowship from the Howard Hughes Medical Institute.

After his training, Dr. Amar was recruited back to Yale as Director of Endovascular Neurosurgery. He subsequently worked as a faculty member at Stanford University before returning to the USC School of Medicine.

He has been selected for inclusion in the "Best Doctors in America" database, "America's Top Surgeons" by the Consumers Research Council of America, Marquis "Who's Who", Academic Keys' "Who's Who in Medicine Higher Education", Castle Connolly's "America's Top Doctors", Pasadena magazine's "Top Doctors", Hollywood Reporter's "Top Doctors" and US news and World Report "Best Doctors in America" (top 1% of neurosurgeons). He is also a Distinguished Consultant to the National Institute of Medicine and recipient of the Award of Honor of the National Institute of Medicine in the Specialty Field of Neurosurgery.

Dr. Amar's research and clinical interests include brain and spinal cord injury, aneurysms and vascular malformations, stroke and cerebrovascular disorders, blood-brain-barrier, brain tumors, vagus nerve stimulation, interventional neuroradiology, vertebroplasty, kyphoplasty, stem cell therapy, and gene therapy. In these and other topics, Dr. Amar has authored more than 100 publications in the neurosurgical literature. He has also edited books on spinal cord injury and interventional neuroradiology.

Dr. Amar has led the safety committees of dozens of multicenter randomized clinical trials of cerebrovascular disorders and served on the editorial staff of numerous journals. He has also held numerous leadership positions within organized neurosurgery. He is internationally recognized for his contributions to patient care, research, and education.