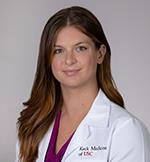 Cara J Hall
Assistant Professor of Clinical Orthopaedic Surgery
Orthopaedic Surgery
1510 San Pablo St.
Health Sciences Campus
Los Angeles
Contact
Cara J. Hall, MD, specializes in the management of patients with musculoskeletal problems with a focus on sports medicine. She is a team physician for USC Athletics and the Los Angeles Kings hockey team. In addition, she treats athletes of all ages and patients with arthritic joints. She also has a special interest in patients with concussions.

Dr. Hall's philosophy of care is to work with each patient to create the best treatment plan for their goals, thus empowering patients to take control of their own health and wellness. To that end, she strives to maintain open communication with patients and multidisciplinary colleagues alike.