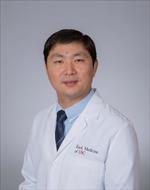 Dongshi Chen
Assistant Professor of Research Medicine
Medicine
1520 San Pablo St.
Health Sciences Campus
Los Angeles
Contact
RIP3-dependent necroptosis contributes to the pathogenesis of chronic obstructive pulmonary disease JCI Insight. 2021 06 22; 6(12). . View in PubMed
RNA m6 A methylation regulates sorafenib resistance in liver cancer through FOXO3-mediated autophagy EMBO J. 2020 06 17; 39(12):e103181. . View in PubMed
p53 Up-regulated Modulator of Apoptosis Induction Mediates Acetaminophen-Induced Necrosis and Liver Injury in Mice Hepatology. 2019 05; 69(5):2164-2179. . View in PubMed
Restoring PUMA induction overcomes KRAS-mediated resistance to anti-EGFR antibodies in colorectal cancer Oncogene. 2018 08; 37(33):4599-4610. . View in PubMed
PUMA amplifies necroptosis signaling by activating cytosolic DNA sensors Proc Natl Acad Sci U S A. 2018 04 10; 115(15):3930-3935. . View in PubMed
Mcl-1 Degradation Is Required for Targeted Therapeutics to Eradicate Colon Cancer Cells Cancer Res. 2017 05 01; 77(9):2512-2521. . View in PubMed
BRAFV600E-dependent Mcl-1 stabilization leads to everolimus resistance in colon cancer cells Oncotarget. 2016 Jul 26; 7(30):47699-47710. . View in PubMed
Necroptosis: an alternative cell death program defending against cancer Biochim Biophys Acta. 2016 Apr; 1865(2):228-36. . View in PubMed
Fibulin-5 inhibits Wnt/ß-catenin signaling in lung cancer Oncotarget. 2015 Jun 20; 6(17):15022-34. . View in PubMed
Loss of caspase-3 sensitizes colon cancer cells to genotoxic stress via RIP1-dependent necrosis Cell Death Dis. 2015 Apr 23; 6:e1729. . View in PubMed
TAp73 promotes cell survival upon genotoxic stress by inhibiting p53 activity Oncotarget. 2014 Sep 30; 5(18):8107-22. . View in PubMed
Regorafenib inhibits colorectal tumor growth through PUMA-mediated apoptosis Clin Cancer Res. 2014 Jul 01; 20(13):3472-84. . View in PubMed
Mol Cancer Ther. 2014 May; 13(5):1298-308. . View in PubMed
Understanding copper sensitivity in zebrafish (Danio rerio) through the intracellular localization of copper transporters in a hepatocyte cell-line ZFL and the tissue expression profiles of copper transporters Metallomics. 2014 May; 6(5):1057-67. . View in PubMed
Identification of hepatic copper-binding proteins from tilapia by column chromatography with proteomic approaches Metallomics. 2012 Aug; 4(8):820-34. . View in PubMed
Effects of Cu2O nanoparticle and CuCl2 on zebrafish larvae and a liver cell-line Aquat Toxicol. 2011 Oct; 105(3-4):344-54. . View in PubMed
PCR-cloning of tilapia ATP7A cDNA and its mRNA levels in tissues of tilapia following copper administrations Aquat Toxicol. 2011 Oct; 105(3-4):717-27. . View in PubMed
Differentially expressed proteins in zebrafish liver cells exposed to copper Aquat Toxicol. 2011 Aug; 104(3-4):270-7. . View in PubMed
Changes in the protein expression profiles of the Hepa-T1 cell line when exposed to Cu2+ Aquat Toxicol. 2009 Sep 14; 94(3):163-76. . View in PubMed
Differential Proteins of Sub-buccal Ganglions Selected and Identified with Proteomic Techniques in Aplysia Under the Stress Condition of Cadmium Chloride Chemical Journal of Chinese Universities-Chinese. 2009; 30:314-319. . View in PubMed
Biokinetics of cadmium and zinc in a marine bacterium: influences of metal interaction and pre-exposure Environ Toxicol Chem. 2008 Aug; 27(8):1794-801. . View in PubMed
Proteomic study of serum using gel chromatography and MALDI-TOF-MS reveals diagnostic biomarkers in male patients with liver cancer International Journal of Mass Spectrometry. 2007; 261(2-3):108-114. . View in PubMed
Polymer Characteristics of Catechin and Catechin Ge4 Measured with a Technology of Mass Spectrometry Chinese Journal of Analytical Chemistry. 2006; 1:52-56. . View in PubMed
Optimized Separation and Identification of Proteome from the Baccal Ganalion of Aplysia (Notarcus leachii cirrosus Stimpson) Chemical Journal of Chinese Universities-Chinese. 2006; 27:1257-1261. . View in PubMed
Dr. Chen's current research focuses on the signal pathway of cell death and its role and functional mechanism in cigarette smoking induced lung injury and inflammation, as well as their correlation with lung diseases, such as COPD, lung cancer.

His current studies engaged into the interplay of apoptosis, necroptosis, and lung inflammatory response, including activation of macrophage, neutrophil and T cells. On the other hand, he is interested in studying how elastases (ELANE, MMP12, et al) released in the inflammatory microenvironment contribute to the progression of COPD and lung cancer.

The long term goal is to identify novel molecular targets and treatment strategies to improve COPD, lung cancer therapy. He is also interested in studying the role and molecular mechanisms of aging in the progression of COPD and tumorigenesis.