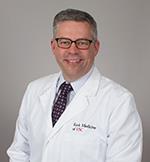 Glenn T. Ault
Professor of Clinical Surgery (Educational Scholar)
Physician Director of Graduate Medical Education at Keck Medicine of USC
Surgery
1975 Zonal Ave.
Health Sciences Campus
Los Angeles
Contact
Expert Commentary on Evaluation and Management of Supralevator Abscess Dis Colon Rectum. 2023 May 01; 66(5):629-630. . View in PubMed
Assessment of an Opioid Stewardship Program on Perioperative Opioid Prescribing in a Safety-Net Health System JAMA Surg. 2023 03 01; 158(3):318-319. . View in PubMed
Optimizing Appropriate Disposal of Unused Postoperative Opioid: What Happens to Unused Medication? Am Surg. 2022 Jul 07; 31348221114064.. View in PubMed
Outcomes of colostomy takedown following Hartmann's procedure: successful restoration of continuity comes with a high risk of morbidity Colorectal Dis. 2021 Apr; 23(4):967-974. . View in PubMed
LigaSure™ haemorrhoidectomy and the risk of postoperative bleeding Colorectal Dis. 2021 10; 23(10):2699-2705. . View in PubMed
Development and emergency implementation of an online surgical education curriculum for a General Surgery program during a global pandemic: The University of Southern California experience Am J Surg. 2021 05; 221(5):962-972. . View in PubMed
COVID-19 Impact on Colorectal Daily Practice-How Long Will It Take to Catch Up? J Gastrointest Surg. 2021 01; 25(1):260-268.. View in PubMed
Reduction of Opioid Overprescribing and Use Following Standardized Educational Intervention: A Survey of Patient Experiences Following Anorectal Procedures Dis Colon Rectum. 2021 09 01; 64(9):1129-1138. . View in PubMed
Isolated Cecal Diverticulitis in a Non-Asian Patient With Strong Family History of Colon Adenocarcinoma Am Surg. 2020 Dec 14; 3134820973718. . View in PubMed
Percutaneous drainage for hinchey Ib and II acute diverticulitis with abscess improves outcomes Turk J Gastroenterol. 2019 Nov; 30(11):976-983. . View in PubMed
Operative management of diverticulitis in a tertiary care center Am J Surg. 2017 Jul; 214(1):37-41. . View in PubMed
Outpatient Laparoscopic Appendectomy: Feasible in a Public County Hospital? J Am Coll Surg. 2017 Mar 13.. View in PubMed
Treatment-Based Three-Dimensional Classification and Management of Anorectal Infections World J Surg. 2017 02; 41(2):574-589. . View in PubMed
Reduction in Jail Emergency Department Visits and Closure After Implementation of On-Site Urgent Care J Correct Health Care. 2017 Jan; 23(1):88-92. . View in PubMed
The Role of Radio Frequency Detection System Embedded Surgical Sponges in Preventing Retained Surgical Sponges: A Prospective Evaluation in Patients Undergoing Emergency Surgery Ann Surg. 2016 Oct; 264(4):599-604. . View in PubMed
Initiating a Standard Venous Thromboembolism Prophylaxis Order Set Designed to Improve Patient Outcomes at Los Angeles County+University of Southern California Am Surg. 2016 Oct; 82(10):1000-1004. . View in PubMed
Factors Associated with a Short (<2 Days) or Long (>10 Days) Length of Stay after Colectomy: A Multivariate Analysis of over 400 Patients Am Surg. 2016 Oct; 82(10):960-963. . View in PubMed
Long-term follow-up of Fournier's Gangrene in a tertiary care center J Surg Res. 2016 11; 206(1):175-181. . View in PubMed
A Novel Classification, Evaluation, and Treatment Strategy for Supralevator Abscesses Dis Colon Rectum. 2015 Nov; 58(11):1109-10. . View in PubMed
A novel approach to assessing technical competence of colorectal surgery residents: the development and evaluation of the Colorectal Objective Structured Assessment of Technical Skill (COSATS) Ann Surg. 2013 Dec; 258(6):1001-6. . View in PubMed
Are telephone interviews an adequate substitute for postoperative care? JAMA Surg. 2013 Sep; 148(9):827-8.. View in PubMed
Elective versus emergency surgery for ulcerative colitis: a National Surgical Quality Improvement Program analysis Am J Surg. 2013 Mar; 205(3):333-7; discussion 337-8. . View in PubMed
Rectal foreign bodies: what is the current standard? Clin Colon Rectal Surg. 2012 Dec; 25(4):214-8.. View in PubMed
Enhanced recovery protocol: implementation at a county institution with limited resources Am Surg. 2012 Oct; 78(10):1041-4. . View in PubMed
Laparoscopic versus open colon resections in California: a cross-sectional analysis Am Surg. 2012 Oct; 78(10):1063-5. . View in PubMed
Current controversies in the management of colon cancer Curr Probl Surg. 2012 Jul; 49(7):398-460. . View in PubMed
Colorectal procedures: what proportion is performed by American board of colon and rectal surgery-certified surgeons? Dis Colon Rectum. 2010 May; 53(5):713-20.. View in PubMed
Inflammatory bowel disease in the United States from 1998 to 2005: has infliximab affected surgical rates? Am Surg. 2009 Oct; 75(10):976-80.. View in PubMed
Diverticulitis in California from 1995 to 2006: increased rates of treatment for younger patients Am Surg. 2009 Oct; 75(10):981-5. . View in PubMed
Impact of the aging population on the demand for colorectal procedures Dis Colon Rectum. 2009 Apr; 52(4):583-90; discussion 590-1. . View in PubMed
Adenocarcinoma arising in the middle of ileoanal pouches: report of five cases Dis Colon Rectum. 2009 Mar; 52(3):538-41. . View in PubMed
Surgical excision of extensive anal condylomata not associated with risk of anal stenosis Int J Colorectal Dis. 2008 Sep; 23(9):853-6. . View in PubMed
Morbidity of ostomy takedown J Gastrointest Surg. 2008 Mar; 12(3):437-41. . View in PubMed
Questions about efficacy of continuous wound catheters J Am Coll Surg. 2007 Oct; 205(4):e2-3; author reply e3. . View in PubMed
Delayed rectovaginal fistula: a potential complication of bevacizumab (avastin) Dis Colon Rectum. 2007 Jun; 50(6):930. . View in PubMed
Cost-saving effect of treatment algorithm for chronic anal fissure: a prospective analysis J Gastrointest Surg. 2005 Dec; 9(9):1237-43; discussion 1243-4. . View in PubMed
The management of complicated diverticulitis and the role of computed tomography Am J Gastroenterol. 2005 Apr; 100(4):910-7. . View in PubMed
A focused breast skills workshop improves the clinical skills of medical students J Surg Res. 2002 Aug; 106(2):303-7. . View in PubMed
The standardized vascular clinic: an alternative to the traditional ambulatory setting Am J Surg. 2000 Mar; 179(3):243-6. . View in PubMed
Selective management of hepatic adenomas Am Surg. 1996 Oct; 62(10):825-9. . View in PubMed
Dr. Glenn T. Ault graduated from the Hahnemann University School of Medicine in Philadelphia, PA and completed his surgical training here at the University of Southern California. Dr. Ault went on to complete his training in colorectal surgery in June 2004 at the Keck School of Medicine of USC. Upon completion of his colorectal training, he joined the faculty as Assistant Professor of Colorectal Surgery in July 2004. In addition, Dr. Ault is the Chief of Service for the Department of Colorectal Surgery at LAC+USC Medical Center.

Dr. Ault's major areas of research interests include Colon and Rectal Cancer, Recurrent Colon and Rectal Cancer, as well as Benign Colon, Rectal and Anal Conditions.

Because of an interest in education, Dr. Ault completed a Masters Degree in Education at USC in 1999.