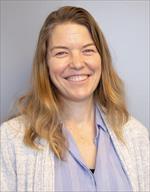 Laura Ferguson
Associate Professor of Population and Public Health Sciences
Medicine
SSB 318H 2001 N. Soto Street
Health Sciences Campus
Los Angeles
Contact
A review of place-related contextual factors in syndemics research Health Place. 2023 Jul 10; 83:103084. . View in PubMed
Systematic review and quantitative and qualitative comparative analysis of interventions to address HIV-related stigma and discrimination AIDS. 2023 Jun 20. . View in PubMed
Measuring Geographic Access to Transgender Hormone Therapy in Texas: A Three-step Floating Catchment Area Analysis Spat Spatiotemporal Epidemiol. 2023 Jun; 45:100585. . View in PubMed
"I Can't Take This Shitty Quarantine Anymore": Sexual Behavior and PrEP Use Among Young Men Who Have Sex with Men and Transgender Women in Brazil During the COVID-19 Pandemic Arch Sex Behav. 2023 02; 52(2):689-702. . View in PubMed
Health Justice in the Context of Health and Human Rights Am J Public Health. 2023 02; 113(2):182-184. . View in PubMed
Leaving No One Behind: Human Rights and Gender as Critical Frameworks for U=U Health Hum Rights. 2022 Dec; 24(2):1-11. . View in PubMed
Frameworks and measures for HIV-related internalized stigma, stigma and discrimination in healthcare and in laws and policies: a systematic review J Int AIDS Soc. 2022 07; 25 Suppl 1:e25915. . View in PubMed
Construction and validation of a spatial database of providers of transgender hormone therapy in the US Soc Sci Med. 2022 06; 303:115014. . View in PubMed
Addressing stigma and discrimination at scale: uniting for a common vision while acknowledging local realities J Int AIDS Soc. 2022 03; 25(3):e25893. . View in PubMed
Conceptualisations of masculinity and sexual development among boys and young men in Korogocho slum in Kenya Cult Health Sex. 2022 02; 24(2):226-240. . View in PubMed
Global assessment of existing HIV and key population stigma indicators: A data mapping exercise to inform country-level stigma measurement PLoS Med. 2022 02; 19(2):e1003914. . View in PubMed
Facility and Community Results-Based Financing to Improve Maternal and Child Nutrition and Health in The Gambia Health Syst Reform. 2022 01 01; 8(1):2117320. . View in PubMed
Mind the Gap: Understanding Differences Between Sexual and Reproductive Health-Related Legal Frameworks on Paper and in Practice Front Glob Womens Health. 2022; 3:838976. . View in PubMed
Removing the societal and legal impediments to the HIV response: An evidence-based framework for 2025 and beyond PLoS One. 2022; 17(2):e0264249. . View in PubMed
PrEP distribution in pharmacies: a systematic review BMJ Open. 2022 02 21; 12(2):e054121. . View in PubMed
Integrating human rights into sexual and reproductive health research: moving beyond the rhetoric, what will it take to get us there? Sex Reprod Health Matters. 2021 Dec; 29(1):1881206.. View in PubMed
Creating a Global Legal and Policy Database and Document Repository: Challenges and Lessons Learned From the World Health Organization Sexual, Reproductive, Maternal, Newborn, Child and Adolescent Health Policy Survey Int J Health Policy Manag. 2021 Nov 06. . View in PubMed
Inclusion of human rights in sexual and reproductive health programming: Facilitators and barriers to implementation Glob Public Health. 2021 10; 16(10):1559-1575. . View in PubMed
Centring rights-based access to self-care interventions Sex Reprod Health Matters. 2021; 29(3):2138053. . View in PubMed
Law, human rights and gender in practice: an analysis of lessons from implementation of self-care interventions for sexual and reproductive health Sex Reprod Health Matters. 2021; 29(3):2105284. . View in PubMed
Frameworks, measures, and interventions for HIV-related internalised stigma and stigma in healthcare and laws and policies: systematic review protocol BMJ Open. 2021 12 09; 11(12):e053608. . View in PubMed
Self-administration of gender-affirming hormones: a systematic review of effectiveness, cost, and values and preferences of end-users and health workers Sex Reprod Health Matters. 2021; 29(3):2045066. . View in PubMed
Effects of the COVID-19 pandemic on the sexual and mental health of adolescent and adult men who have sex with men and transgender women participating in two PrEP cohort studies in Brazil: COBra study protocol BMJ Open. 2021 04 01; 11(4):e045258. . View in PubMed
Uptake and provision of self-care interventions for sexual and reproductive health: findings from a global values and preferences survey Sex Reprod Health Matters. 2021; 29(3):2009104. . View in PubMed
Results-based financing to increase uptake of skilled delivery services in The Gambia: using the 'three delays' model to interpret midline evaluation findings BMC Pregnancy Childbirth. 2020 Nov 23; 20(1):712. . View in PubMed
Prioritising gender, equity, and human rights in a GRADE-based framework to inform future research on self care for sexual and reproductive health and rights BMJ Glob Health. 2020; 5(3):e002128. . View in PubMed
Expanding the role of paralegals: supporting realization of the right to health for vulnerable communities BMC Int Health Hum Rights. 2020 03 30; 20(1):8. . View in PubMed
Eliminating stigma and discrimination in sexual and reproductive health care: a public health imperative Sex Reprod Health Matters. 2019 12; 27(3):1-5. . View in PubMed
'We are not infertile': challenges and limitations faced by women in same-sex relationships when seeking conception services in São Paulo, Brazil Cult Health Sex. 2019 11; 21(11):1257-1272. . View in PubMed
Nutrition and Health Improvements After Participation in an Urban Home Garden Program J Nutr Educ Behav. 2019 10; 51(9):1037-1046. . View in PubMed
Sex work-related stigma: Experiential, symbolic and structural forms in the health systems of Delhi, India Soc Sci Med. 2019 05; 228:85-92. . View in PubMed
Human rights and legal dimensions of self care interventions for sexual and reproductive health BMJ. 2019 05 13; 365:l1941. . View in PubMed
"In transition: ensuring the sexual and reproductive health and rights of transgender populations" A roundtable discussion. Reprod Health Matters. 2018 Dec; 26(52):1490624. . View in PubMed
A Meta-Narrative Literature Synthesis and Framework to Guide Future Evaluation of Legal Empowerment Interventions Health Hum Rights. 2018 Dec; 20(2):65-84. . View in PubMed
Characteristics of adolescents living with HIV receiving care and treatment services in antiretroviral therapy clinics in Cambodia: descriptive findings from a cross-sectional study BMC Health Serv Res. 2018 Oct 16; 18(1):781. . View in PubMed
Interpersonal Violence in Afghanistan-Beyond a Strictly Public Health Approach Am J Public Health. 2018 12; 108(12):1584-1585. . View in PubMed
Sexual and reproductive health and rights for all: translating the Guttmacher-Lancet Commission's global report to local action Reprod Health Matters. 2018 12; 26(52):1487621. . View in PubMed
[From evidence to action: challenges for the Brazilian Unified National Health System in offering pre-exposure prophylaxis (PrEP) for HIV to persons with the greatest vulnerability] Cad Saude Publica. 2018 07 23; 34(7):e00206617. . View in PubMed
Assessing changes in HIV-related legal and policy environments: Lessons learned from a multi-country evaluation PLoS One. 2018; 13(2):e0192765. . View in PubMed
Non-communicable diseases and human rights: Global synergies, gaps and opportunities Glob Public Health. 2017 10; 12(10):1200-1227. . View in PubMed
Not without a fight: standing up against the Global Gag Rule Reprod Health Matters. 2017; 25(49):1303250. . View in PubMed
A novel methodology for strengthening human rights based monitoring in public health: Family planning indicators as an illustrative example PLoS One. 2017; 12(12):e0186330. . View in PubMed
The current state of play of research on the social, political and legal dimensions of HIV Cad Saude Publica. 2015 Mar; 31(3):477-86. . View in PubMed
The HIV care cascade: models, measures and moving forward J Int AIDS Soc. 2015; 18:19395. . View in PubMed
Noncommunicable diseases and human rights: a promising synergy Am J Public Health. 2014 May; 104(5):773-5. . View in PubMed
Realigning government action with public health evidence: the legal and policy environment affecting sex work and HIV in Asia Cult Health Sex. 2014; 16(1):14-29. . View in PubMed
Linking women who test HIV-positive in pregnancy-related services to HIV care and treatment services in Kenya: a mixed methods prospective cohort study PLoS One. 2014; 9(3):e89764. . View in PubMed
Identifying structural barriers to an effective HIV response: using the National Composite Policy Index data to evaluate the human rights, legal and policy environment J Int AIDS Soc. 2013 Apr 26; 16:18000. . View in PubMed
Provider-initiated testing and counselling programmes in sub-Saharan Africa: a systematic review of their operational implementation AIDS. 2013 Feb 20; 27(4):617-26. . View in PubMed
The pregnancy decisions of HIV-positive women: the state of knowledge and way forward Reprod Health Matters. 2012 Dec; 20(39 Suppl):119-40. . View in PubMed
Patient attrition between diagnosis with HIV in pregnancy-related services and long-term HIV care and treatment services in Kenya: a retrospective study J Acquir Immune Defic Syndr. 2012 Jul 01; 60(3):e90-7. . View in PubMed
Linking women who test HIV-positive in pregnancy-related services to long-term HIV care and treatment services: a systematic review Trop Med Int Health. 2012 May; 17(5):564-80. . View in PubMed
Prevention of mother-to-child transmission of HIV: assessing the accuracy of routinely collected data on maternal antiretroviral prophylaxis coverage in Kenya Sex Transm Infect. 2012 Mar; 88(2):120-4. . View in PubMed
Human rights in health systems frameworks: what is there, what is missing and why does it matter? Glob Public Health. 2012; 7(4):337-51.. View in PubMed
'Rights-based approaches' to health policies and programs: articulations, ambiguities, and assessment J Public Health Policy. 2010 Jul; 31(2):129-45. . View in PubMed
Human rights in the global response to HIV: findings from the 2008 United Nations General Assembly Special Session Reports J Acquir Immune Defic Syndr. 2009 Dec; 52 Suppl 2:S104-10. . View in PubMed
Increasing civil society participation in the national HIV response: the role of UNGASS reporting J Acquir Immune Defic Syndr. 2009 Dec; 52 Suppl 2:S97-103. . View in PubMed
Government regulation of sex and sexuality: in their own words Reprod Health Matters. 2009 Nov; 17(34):108-18. . View in PubMed
Using indicators to determine the contribution of human rights to public health efforts Bull World Health Organ. 2009 Sep; 87(9):714-9. . View in PubMed
HIV and pregnancy intentions: do services adequately respond to women's needs? Am J Public Health. 2008 Oct; 98(10):1746-50.. View in PubMed
Provider-initiated HIV testing and counseling in health facilities--what does this mean for the health and human rights of pregnant women? Dev World Bioeth. 2008 Apr; 8(1):23-32.. View in PubMed
Beyond the numbers: using rights-based perspectives to enhance antiretroviral treatment scale-up AIDS. 2007 Oct; 21 Suppl 5:S13-9. . View in PubMed
Ensuring sexual and reproductive health for people living with HIV: an overview of key human rights, policy and health systems issues Reprod Health Matters. 2007 May; 15(29 Suppl):4-26. . View in PubMed
Laura Ferguson is an Associate Professor of Population and Public Health Sciences at the Keck School of Medicine. She is the Director of the Program on Global Health & Human Rights and the Director of Research at the Institute on Inequalities in Global Health. She is also on the faculty of USC Dornsife's Spatial Sciences Institute. Dr. Ferguson earned her MSc in Population and International Health from the Harvard School of Public Health and her PhD from the London School of Hygiene and Tropical Medicine. Her work focuses on understanding and addressing health system and societal factors affecting health, and developing the evidence base of how attention to human rights can improve health outcomes.

Dr. Ferguson has spent extended periods of time in low-income countries, primarily in sub-Saharan Africa, collaborating with local partners to design and manage research and programs to tackle a broad range of issues including HIV/AIDS, sexual and reproductive health, and child health.

Dr. Ferguson serves on a range of expert advisory groups to the World Health Organization and UNAIDS. She is also an Associate Editor for Sexual and Reproductive Health Matters.