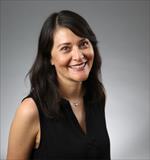 Maria Guadalupe Maldonado
Clinical Assistant Professor of Family Medicine (Clinician Educator)
Family Medicine
HSA Unit 7 A11 163 1000 S. Fremont Avenue
Off Campus
Alhambra
Maria G. Maldonado, MPH, MPAP, PA-C Clinical Assistant Professor of Family Medicine joined the faculty of the Keck School of Medicine of USC Department of Family Medicine Primary Care Physician Assistant Program in 2012. A graduate of the program herself, she completed her studies in 2006 and then served as a National Health Service Corp Scholar working at Community Health Alliance of Pasadena (CHAP), a primary care clinic delivering quality healthcare to predominantly underserved patients.

Maldonado worked as an emergency medicine PA at LAC+USC Medical Center and has continued to practice in family medicine. Her life mission includes contributing to the delivery of quality healthcare to medically underinvested populations and serving as an empowerment co-conspirator through the practice of cultural humility.

She is a founder and director of the USC PA Pipeline Program, where once a month, students from underserved under resourced areas of Los Angeles work with PA students on learning about various careers in health. During these sessions, the visiting students are introduced to a wide range of professions through expert panels, workshops and educational sessions. By exposing kindergarten through college-aged students, who are often the first generation to attend university, Maldonado and the program strive to inspire and guide them to attain their future career goals.

Maldonado completed her undergraduate studies in psychology at USC and earned a Master's degree in public health from UCLA.