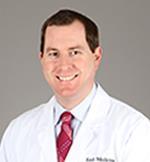 Niels Kokot, MD
Associate Professor Of Clinical Otolaryngology- Head & Neck Surgery
CHP 204M 1540 Alcazar St.
Off Campus
Los Angeles
Niels Kokot, MD, serves as assistant professor of otolaryngology and the residency program director in the Department of Otolaryngology, Head and Neck Surgery.

Dr. Kokot is trained in the new technique of Transoral Robotic Surgery (TORS), a minimally invasive technique allowing for the treatment of many head and neck tumors without requiring traditional open approaches.

Dr. Kokot's clinical specialties encompass all aspects of head and neck surgery, including the management of tumors in the oral cavity, larynx, pharynx, skull base, salivary glands, and thyroid gland, as well as microvascular surgery. He has a particular interest in conservation surgery of the larynx, which is designed to treat cancers of the larynx (voice box) without sacrificing speech or requiring permanent tracheostomy.
Pasadena Magazine: Top Doctor, 2011-2015
A Practical Mathematic Method to Predict and Manage Hypocalcemia After Parathyroidectomy and Thyroidectomy Ann Otol Rhinol Laryngol. 2020 Jan; 129(1):70-77. . View in PubMed
Association of insurance type with time course of care in head and neck cancer management Laryngoscope. 2019 Nov 22. . View in PubMed
Association of Race/Ethnicity, Stage, and Survival in Oral Cavity Squamous Cell Carcinoma: A SEER Study OTO Open. 2019 Oct-Dec; 3(4):2473974X19891126. . View in PubMed
Outcomes of Self-Esophageal Dilation for Head and Neck Cancer Patients Am J Speech Lang Pathol. 2019 Aug 09; 28(3):1060-1066. . View in PubMed
Trends in Diagnostic Flexible Laryngoscopy and Videolaryngostroboscopy Utilization in the US Medicare Population JAMA Otolaryngol Head Neck Surg. 2019 Jun 20. . View in PubMed
Outcomes of reconstruction after temporal bone resection for malignancy J Craniomaxillofac Surg. 2018 Oct; 46(10):1856-1861. . View in PubMed
EC-IC bypass for cerebral revascularization following skull base tumor resection: Current practices and innovations J Surg Oncol. 2018 Oct; 118(5):815-825. . View in PubMed
The molecular mechanisms of increased radiosensitivity of HPV-positive oropharyngeal squamous cell carcinoma (OPSCC): an extensive review J Otolaryngol Head Neck Surg. 2018 Sep 21; 47(1):59. . View in PubMed
Clin Med Insights Ear Nose Throat. 2018; 11:1179550618792248. . View in PubMed
Hypothyroidism Potentially Linked to Cutaneous Squamous Cell Carcinoma: Retrospective Study at a Single Tertiary Academic Medical Center Dermatol Surg. 2018 Jan; 44(1):10-16. . View in PubMed
Reconstruction of parotidectomy and lateral skull base defects Curr Opin Otolaryngol Head Neck Surg. 2017 Oct; 25(5):431-438. . View in PubMed
Transoral surgery vs intensity-modulated radiotherapy for early supraglottic cancer: a systematic review Curr Opin Otolaryngol Head Neck Surg. 2017 Apr; 25(2):133-141. . View in PubMed
Scapular osteocutaneous free flap for total lower lip and mandible reconstruction Microsurgery. 2016 Sep; 36(6):480-4. . View in PubMed
Device Life of Two Generations of Provox Voice Prostheses Ann Otol Rhinol Laryngol. 2016 Jun; 125(6):501-7. . View in PubMed
The Role of HPV in Head and Neck Cancer Stem Cell Formation and Tumorigenesis Cancers (Basel). 2016 Feb 19; 8(2). . View in PubMed
ABCLOVE: Voice therapy outcomes for patients with head and neck cancer Head Neck. 2016 04; 38 Suppl 1:E1810-3. . View in PubMed
Pigmented villonodular synovitis of the temporomandibular joint: Case report and review of the literature Head Neck. 2015 Dec; 37(12):E194-9. . View in PubMed
Use of Octreotide for the Management of Chyle Fistula Following Neck Dissection JAMA Otolaryngol Head Neck Surg. 2015 Aug; 141(8):723-7. . View in PubMed
Hypopharyngeal hemangioma in an adult: a case report Ear Nose Throat J. 2014 Oct-Nov; 93(10-11):E26-8. . View in PubMed
Bacterial biofilms and increased bacterial counts are associated with airway stenosis Otolaryngol Head Neck Surg. 2014 May; 150(5):834-40. . View in PubMed
Use of the supraclavicular artery island flap for reconstruction of cervicofacial defects Otolaryngol Head Neck Surg. 2014 Feb; 150(2):222-8. . View in PubMed
The supraclavicular artery island flap in head and neck reconstruction: applications and limitations JAMA Otolaryngol Head Neck Surg. 2013 Nov; 139(11):1247-55. . View in PubMed
Transoral robotic resection of oropharyngeal synovial sarcoma in a pediatric patient Int J Pediatr Otorhinolaryngol. 2013 Jun; 77(6):1042-4. . View in PubMed
Immune cell infiltration patterns and survival in head and neck squamous cell carcinoma Head Neck Oncol. 2013 Feb 27; 5(3):24. . View in PubMed
Radiology quiz case 2Iatrogenic ectopic thyroid. JAMA Otolaryngol Head Neck Surg. 2013 Feb; 139(2):189-91. . View in PubMed
Reconstruction of total lower eyelid defects with the temporoparietal fascial flap Case Rep Ophthalmol Med. 2012; 2012:927260. . View in PubMed
Split central venous sampling of parathyroid hormone: an adjunct to surgical exploration Head Neck. 2011 Dec; 33(12):1715-8. . View in PubMed
CD8(+) T cell tolerance to a tumor-associated antigen is maintained at the level of expansion rather than effector function J Exp Med. 2002 Jun 03; 195(11):1407-18. . View in PubMed
Taxol induces apoptosis in cortical neurons by a mechanism independent of Bcl-2 phosphorylation J Neurosci. 2001 Jul 01; 21(13):4657-67. . View in PubMed
Macrophage activation by polycyclic aromatic hydrocarbons: evidence for the involvement of stress-activated protein kinases, activator protein-1, and antioxidant response elements J Immunol. 1998 Jul 15; 161(2):942-51. . View in PubMed
The c-Jun N-terminal kinase cascade plays a role in stress-induced apoptosis in Jurkat cells by up-regulating Fas ligand expression J Immunol. 1998 Jan 01; 160(1):134-44. . View in PubMed
Inflammatory cytokines induce the expression of basic fibroblast growth factor (bFGF) isoforms required for the growth of Kaposi's sarcoma and endothelial cells through the activation of AP-1 response elements in the bFGF promoter AIDS. 1998 Jan 01; 12(1):19-27. . View in PubMed
Regulation of interleukin-2 transcription by inducible stable expression of dominant negative and dominant active mitogen-activated protein kinase kinase kinase in jurkat T cellsEvidence for the importance of Ras in a pathway that is controlled by dual receptor stimulation. J Biol Chem. 1996 Nov 01; 271(44):27366-73. . View in PubMed