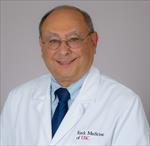 Richard Castriotta
Professor of Clinical Medicine
2020 Zonal Ave.
Health Sciences Campus
Los Angeles
Richard J. Castriotta, M.D., FCCP, FAASM is a Professor of Clinical Medicine at the University of Southern California Keck School of Medicine in Los Angeles and Professor Emeritus at the University of Texas Health Science Center at Houston McGovern Medical School (UTHealth). He has served as Professor of Internal Medicine, and Director of the Division of Pulmonary, Critical Care and Sleep Medicine at UTHealth as well as Chief of Pulmonary Medicine, Chairman of the Institutional Ethics Committee and Medical Director of the Sleep Disorders Center and Pulmonary Diagnostic Services at Memorial Hermann Hospital - Texas Medical Center in Houston. He has served as President of the Southern Sleep Society, Chair of the Connecticut Thoracic Society Section on Sleep Medicine, Chair of the American College of Chest Physicians (ACCP) Sleep NetWork Steering Committee, Chair of the ACCP Palliative and End-of-Life Care NetWork, a member of the ACCP SEEK Editorial Board and Vice Chair of the Southern Medical Association Chest Disease Section. He is now President of the Southern Sleep Foundation Board of Directors. He is a Distinguished Educator and Fellow of the American College of Chest Physicians and a fellow of the American Academy of Sleep Medicine. His research interests involve REM sleep behavior disorder and Parkinson's disease, sleep-related hypoventilation, complex sleep apnea and adaptive servo-ventilation, control of breathing in obesity, sleep architecture in agenesis of the corpus callosum and sleep-disordered breathing in heart and lung transplant patients, ventricular assist devices, and atrial fibrillation.
Dr. Castriotta is an internationally-recognized leader in pulmonary, critical care and sleep medicine as a clinician, teacher and researcher. He has been a pioneer in the field of sleep medicine, establishing a sleep laboratory in 1981 and a formal sleep medicine fellowship program in 1999. He was the senior author on the papers establishing the safety and efficacy in using helium to treat acute severe asthma with consequent reduction in asthma mortality. He was instrumental in establishing the definitive diagnosis of sarcoidosis by imaging studies. He was the first author on the definitive study of sleep disorders after traumatic brain injury and he remains one of the world's experts in this field.
Marquis Who's Who: Albert Nelson Marquis Lifetime Achievement Award, 2018
American College of Chest Physicians: Distinguished CHEST Educator, 2017
Castle Connolly: Top Doctors - Pulmonary Disease, 2016-2020
Castle Connolly: Top Doctors - Pulmonary Disease, 2016-2019
Houstonia Magazine: Houston's Top Doctors, 2014-2019
Pathophysiological characteristics and therapeutic approaches for pulmonary injury and cardiovascular complications of coronavirus disease 2019 Cardiovasc Pathol. 2020 Apr 17; 47:107228. . View in PubMed
Performance assessment of new-generation Fitbit technology in deriving sleep parameters and stages Chronobiol Int. 2020 Jan; 37(1):47-59. . View in PubMed
Performance comparison of different interpretative algorithms utilized to derive sleep parameters from wrist actigraphy data Chronobiol Int. 2019 Dec; 36(12):1752-1760. . View in PubMed
Before-bedtime passive body heating by warm shower or bath to improve sleep: A systematic review and meta-analysis Sleep Med Rev. 2019 08; 46:124-135. . View in PubMed
Accuracy of Wristband Fitbit Models in Assessing Sleep: Systematic Review and Meta-Analysis J Med Internet Res. 2019 11 28; 21(11):e16273. . View in PubMed
Cutting for Cures: Bariatric Surgery and Obstructive Sleep Apnea J Clin Sleep Med. 2019 10 15; 15(10):1391-1392. . View in PubMed
Irwin and Rippe's Intensive Care Medicine (edited by Richard SIrwin, Craig M Lilly, Paul H. Mayo and James M. Rippe). Managing Non-Pain Symptoms in Critically Ill Patients. 2018; 318-329. . View in PubMed
Sleep-disordered breathing in heart failure patients after ventricular assist device implantation and heart transplantation Panminerva Med. 2017 Sep; 59(3):221-229. . View in PubMed
Ventricular assist devices and sleep-disordered breathing Sleep Med Rev. 2017 10; 35:51-61. . View in PubMed
Sense and Sensitivity: Obstructive Sleep Apnea, Morning Blood Pressure, and Occult Hypertension J Clin Sleep Med. 2017 07 15; 13(7):861-862. . View in PubMed
Screening for sleep apnea in the perioperative setting: looking for the right compromise Minerva Anestesiol. 2016 08; 82(8):914-5. . View in PubMed
Assessing risk of obstructive sleep apnea by STOP-BANG questionnaire in an adult surgical population screened in the preoperative anesthesia clinic Minerva Anestesiol. 2016 05; 82(5):605-6. . View in PubMed
Sleep Medicine: Comprehensive Guide to Its Development, Clinical Milestones and Advances in TreatmentEd by S. Chokroverty and M. Billiard. Springer. Sleep Disorders after Traumatic Brain Injury: Milestones in Perspective. 2015. . View in PubMed
Return to Lonesome Dove: when the patient wants to go home without surgery Am J Bioeth. 2015; 15(1):68. . View in PubMed
Averaging of diffusion tensor imaging direction-encoded color maps for localizing substantia nigra Comput Biol Med. 2014 Aug; 51:104-10. . View in PubMed
High hypopnea/apnea ratio (HAR) in extreme obesity J Clin Sleep Med. 2014 Apr 15; 10(4):391-6. . View in PubMed
Altered nigrostriatal and nigrocortical functional connectivity in rapid eye movement sleep behavior disorder Sleep. 2013 Dec 01; 36(12):1885-92. . View in PubMed
Complex Sleep Apnea Sleep Medicine Clinics. 2013; 8(4):463-475. . View in PubMed
(Mis) perceptions and interactions of sleep specialists and generalists: obstacles to referrals to sleep specialists and the multidisciplinary team management of sleep disorders J Clin Sleep Med. 2012 Dec 15; 8(6):633-42. . View in PubMed
Sleep Disorders in Spinal Cord Injury Sleep Medicine Clinics. 2012; 7(4):643-653. . View in PubMed
Sleep disorders in patients with traumatic brain injury: a review CNS Drugs. 2011 Mar; 25(3):175-85. . View in PubMed
Reduced volume of the putamen in REM sleep behavior disorder patients Parkinsonism Relat Disord. 2010 Dec; 16(10):645-9. . View in PubMed
Workshop on idiopathic pulmonary fibrosis in older adults Chest. 2010 Sep; 138(3):693-703. . View in PubMed
Thermal infrared imaging: a novel method to monitor airflow during polysomnography Sleep. 2009 Nov; 32(11):1521-7. . View in PubMed
The utility of delayed-enhancement magnetic resonance imaging for identifying nonischemic myocardial fibrosis in asymptomatic patients with biopsy-proven systemic sarcoidosis Sarcoidosis Vasc Diffuse Lung Dis. 2009 Jul; 26(1):39-46. . View in PubMed
Hypoventilation after spinal cord injury Semin Respir Crit Care Med. 2009 Jun; 30(3):330-8. . View in PubMed
Treatment of sleep disorders after traumatic brain injury J Clin Sleep Med. 2009 Apr 15; 5(2):137-44. . View in PubMed
Withdrawal of life sustaining treatment in children in the first year of life J Perinatol. 2008 Sep; 28(9):641-5. . View in PubMed
Body position and obstructive sleep apnea in 8-12-month-old infants Int J Pediatr Otorhinolaryngol. 2008 Jun; 72(6):897-900. . View in PubMed
Cognitive impairment in patients with traumatic brain injury and obstructive sleep apnea Arch Phys Med Rehabil. 2007 Oct; 88(10):1284-8. . View in PubMed
Role of sleep-wake cycle on blood pressure circadian rhythms and hypertension Sleep Med. 2007 Sep; 8(6):668-80. . View in PubMed
Prevalence and consequences of sleep disorders in traumatic brain injury J Clin Sleep Med. 2007 Jun 15; 3(4):349-56. . View in PubMed
Sleep disorders associated with traumatic brain injury Arch Phys Med Rehabil. 2001 Oct; 82(10):1403-6. . View in PubMed
The effect of polysomnography on sleep position: possible implications on the diagnosis of positional obstructive sleep apnea Respiration. 1996; 63(5):283-7. . View in PubMed
Heliox therapy in acute severe asthma Chest. 1995 Mar; 107(3):757-60. . View in PubMed
Obstructive sleep apnea due to a carotid body paraganglioma Sleep. 1995 Jan; 18(1):53-4. . View in PubMed
Alpha-delta sleep in patients with a chief complaint of chronic fatigue South Med J. 1994 Apr; 87(4):465-70. . View in PubMed
The effect of circuit weight training on cardiovascular function in healthy sedentary males Journal of Cardiopulmonary Rehabilitation. 1994; 14:378-383. . View in PubMed
A critical technico-ethical dilemma of current medicine HEC Forum. 1993 Mar; 5(2):77-82. . View in PubMed
Intensive care unit outcome in the very elderly Crit Care Med. 1992 Dec; 20(12):1666-71. . View in PubMed
Panda sign--avid and symmetrical radiogallium accumulation in the lacrimal and parotid glands Semin Nucl Med. 1991 Oct; 21(4):339-40. . View in PubMed
Recognition of distinctive patterns of gallium-67 distribution in sarcoidosis J Nucl Med. 1990 Dec; 31(12):1909-14. . View in PubMed
Adjustment of DLCO for varying COHb, and alveolar PO2 using a theoretical adjustment equation Respir Physiol. 1990 Sep; 81(3):303-11. . View in PubMed
Helium-oxygen mixtures in intubated patients with status asthmaticus and respiratory acidosis Chest. 1990 Sep; 98(3):693-8. . View in PubMed
Effect of inhaled triamcinolone on bronchial hyperreactivity and airways obstruction in asthma Ann Allergy. 1990 Feb; 64(2 Pt 2):207-12. . View in PubMed
Treatment of acute serum sickness by plasma ultrafiltration Am J Med Sci. 1987 Feb; 293(2):75-84. . View in PubMed
Strain variation of bacillus Calmette-Guerin-induced pulmonary granuloma formation is correlated with anergy and the local production of migration inhibition factor and interleukin 1 Am J Pathol. 1985 May; 119(2):223-35. . View in PubMed