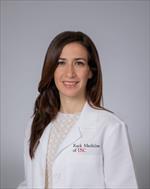 Sandra D Algaze
Assistant Professor of Clinical Medicine
Medicine
1520 San Pablo St.
Health Sciences Campus
Los Angeles
Contact
Moving Beyond Chemotherapy for Pancreaticobiliary Tumors: Targeted and Immunotherapy Strategies American Society of Clinical Oncology Educational Book. 2020; e333-e343. . View in PubMed
A Retrospective Study of the Combination of Rituximab, Cyclophosphamide and Dexamethasone for the Treatment of Relapsed/Refractory Warm Antibody Autoimmune Hemolytic Anemia Acta Haematol. 2020; 143(3):244-249. . View in PubMed
Hepatitis B Reactivation: A Potentially Serious Complication of Chemotherapy for Solid Tumors Advance in Cancer Research & Clinical Imaging. 2020; 2(3). . View in PubMed
Autoimmune haemolytic anaemia in a patient with advanced lung adenocarcinoma and chronic lymphocytic leukaemia receiving nivolumab and intravenous immunoglobulin BMJ Case Rep. 2018 Mar 09; 2018. . View in PubMed
The Role of Anti-Thymocyte Globulin or Alemtuzumab-Based Serotherapy in the Prophylaxis and Management of Graft-Versus-Host Disease Biomedicines. 2017 Nov 29; 5(4). . View in PubMed
Dr. Sandra Algaze is an Assistant Professor of Medicine in the Division of Medical Oncology at the University of Southern California focusing on gastrointestinal cancers. Dr. Algaze completed her residency in Internal Medicine at the University of Miami/Jackson Memorial Hospital and her clinical fellowship in Hematology and Oncology at Los Angeles County University of Southern California Medical Center where she served as a chief fellow. Her research interests relate to uncovering novel pathways of cancer pathogenesis, development of novel therapies for gastrointestinal tumors and the evaluation of predictive and prognostic risk factors, biomarkers and molecular profiles. She also conducts research addressing health disparities resulting from barriers to specialty care access and underrepresentation of minorities in cancer clinical trials. She was selected to join the inaugural cohort of the Bristol Myers Squibb Foundation and National Medical Fellowships.