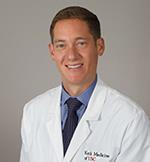 Alexander E. Weber, MD
Assistant Professor of Clinical Orthopaedic Surgery
HC2 - 1520 San Pablo Street, #2000
Health Sciences Campus
Los Angeles
Alexander Weber, M.D. is an assistant professor in the Department of Orthopaedic Surgery at the Keck School of Medicine of USC. His focus is on the management of patients with sports medicine injuries and general orthopaedic surgery. He has a special interest in hip arthroscopy and the treatment of labral pathology around the hip joint. He also treats injuries of the knee and shoulder including: anterior cruciate ligament and meniscal injuries of the knee, and rotator cuff tears and degenerative arthritis of the shoulder joint.

Dr. Weber attended the University of Buffalo School of Medicine in Buffalo, New York. He served as a resident physician at the University of Michigan Department of Orthopaedic Surgery. He subsequently did his fellowship in sports medicine at the prestigious Rush Medical Center in Chicago, Illinois. Dr. Weber has been the Assistant Team Physician for the University of Michigan men's basketball team, the Chicago White Sox and the Chicago Bulls. At the present time, he participates in the care of USC intercollegiate athletes.

Dr. Weber is actively engaged in scientific research and to date he has published 20 peer reviewed articles. He has presented his research work at a variety of national and international meetings. His areas of research interest include treatment of disorders of the hip, shoulder and knee.

Dr. Weber is a member of a number of national organizations including: the American Academy of Orthopaedic Surgeons, the Arthroscopy Association of North America, and the American Orthopaedic Society for Sports Medicine.
Los Angeles Magazine: Super Doctors: Southern California Rising Star, 2018
Los Angeles Magazine: Top Doctors, 2018
Pasadena Magazine: Top Doctor, 2017
Does Bone Plug and Graft Orientation (Inferior versus Posterior) Alter Native Femoral Footprint Coverage in Bone Patellar Tendon Bone Anterior Cruciate Ligament Reconstruction? Arthroscopy. 2020 Feb 12.. View in PubMed
Pathomechanics Underlying Femoroacetabular Impingement Syndrome: A Theoretical Framework to Inform Clinical Practice Phys Ther. 2020 Jan 03. . View in PubMed
High Tibial Osteotomy Survivorship: A Population-Based Study Orthop J Sports Med. 2019 Dec; 7(12):2325967119890693. . View in PubMed
Cutibacterium acnes persists despite topical clindamycin and benzoyl peroxide J Shoulder Elbow Surg. 2019 Dec; 28(12):2279-2283. . View in PubMed
Performance of PROMIS Computer Adaptive Testing As Compared With Established Instruments for Multiple-Ligament Knee Injuries Orthop J Sports Med. 2019 Sep; 7(9):2325967119867419. . View in PubMed
Effect of Preoperative Opioid Usage on Pain After Total Shoulder Arthroplasty J Am Acad Orthop Surg. 2019 Aug 15; 27(16):e734-e742. . View in PubMed
A T-capsulotomy provides increased hip joint visualization compared with an extended interportal capsulotomy: commentary response J Hip Preserv Surg. 2019 Aug; 6(3):290-291. . View in PubMed
Rationale for Biologic Augmentation of Rotator Cuff Repairs J Am Acad Orthop Surg. 2019 Jul 01; 27(13):468-478. . View in PubMed
A T-capsulotomy provides increased hip joint visualization compared with an extended interportal capsulotomy J Hip Preserv Surg. 2019 Jul; 6(2):157-163. . View in PubMed
Rationale for Biologic Augmentation of Rotator Cuff Repairs J Am Acad Orthop Surg. 2019 Apr 16. . View in PubMed
Survivorship and Outcome of Hip Arthroscopy for Femoroacetabular Impingement Syndrome Performed With Modern Surgical Techniques Am J Sports Med. 2019 06; 47(7):1662-1669. . View in PubMed
Arthroscopy. 2019 04; 35(4):1152-1159. e1. . View in PubMed
Lateral Augmentation Procedures in Anterior Cruciate Ligament Reconstruction: Anatomic, Biomechanical, Imaging, and Clinical Evidence Am J Sports Med. 2019 03; 47(3):740-752. . View in PubMed
Injections Prior to Rotator Cuff Repair Are Associated With Increased Rotator Cuff Revision Rates Arthroscopy. 2019 03; 35(3):717-724. . View in PubMed
Irreparable rotator cuff tears: Current treatment options Orthop Rev (Pavia). 2019 09 24; 11(3):8146. . View in PubMed
Resident Involvement in Shoulder Arthroscopy Is Not Associated With Short-term Risk to Patients Orthop J Sports Med. 2018 Dec; 6(12):2325967118816293. . View in PubMed
World J Orthop. 2018 Nov 18; 9(11):262-270. . View in PubMed
Clinically Meaningful Improvements After Hip Arthroscopy for Femoroacetabular Impingement in Adolescent and Young Adult Patients Regardless of Gender J Pediatr Orthop. 2018 Oct; 38(9):465-470. . View in PubMed
Antegrade Femoral Nail Distal Interlocking Screw Causing Rupture of the Medial Patellofemoral Ligament and Patellar Instability Am J Orthop (Belle Mead NJ). 2018 Jul; 47(7). . View in PubMed
Clinical Outcomes After Microfracture of the Knee: Midterm Follow-up Orthop J Sports Med. 2018 Feb; 6(2):2325967117753572. . View in PubMed
Anabolic steroids and tendons: A review of their mechanical, structural, and biologic effects J Orthop Res. 2018 11; 36(11):2830-2841. . View in PubMed
A Systematic Approach to Magnetic Resonance Imaging Interpretation of Sports Medicine Injuries of the Hip JBJS Rev. 2018 11; 6(11):e6. . View in PubMed
Vertical Extension of the T-Capsulotomy Incision in Hip Arthroscopic Surgery Does Not Affect the Force Required for Hip Distraction: Effect of Capsulotomy Size, Type, and Subsequent Repair Am J Sports Med. 2018 11; 46(13):3127-3133. . View in PubMed
Am J Sports Med. 2018 07; 46(8):1870-1876. . View in PubMed
Propionibacterium Acnes Persists Despite Various Skin Preparation Techniques Arthroscopy. 2018 06; 34(6):1786-1789. . View in PubMed
Arthroscopy. 2018 04; 34(4):1044-1051. . View in PubMed
NONOPERATIVE TREATMENT FOR INJURIES TO THE IN-SEASON THROWING SHOULDER: A CURRENT CONCEPTS REVIEW WITH CLINICAL COMMENTARY Int J Sports Phys Ther. 2018 04; 13(2):306-320. . View in PubMed
Hip Arthroscopic Surgery for Femoroacetabular Impingement With Capsular Management: Factors Associated With Achieving Clinically Significant Outcomes Am J Sports Med. 2018 02; 46(2):288-296. . View in PubMed
Can Competitive Athletes Return to High-Level Play After Osteochondral Allograft Transplantation of the Knee? Arthroscopy. 2017 Sep; 33(9):1712-1717.. View in PubMed
Thirty-Year Experience With ACL Reconstruction Using Patellar Tendon: A Critical Evaluation of Revision and Reoperation Orthop J Sports Med. 2017 Aug; 5(8):2325967117724345. . View in PubMed
A FOUR-PHASE PHYSICAL THERAPY REGIMEN FOR RETURNING ATHLETES TO SPORT FOLLOWING HIP ARTHROSCOPY FOR FEMOROACETABULAR IMPINGEMENT WITH ROUTINE CAPSULAR CLOSURE Int J Sports Phys Ther. 2017 Aug; 12(4):683-696. . View in PubMed
Do Patients With Borderline Dysplasia Have Inferior Outcomes After Hip Arthroscopic Surgery for Femoroacetabular Impingement Compared With Patients With Normal Acetabular Coverage? Am J Sports Med. 2017 Jul; 45(9):2116-2124.. View in PubMed
Amateur and Recreational Athletes Return to Sport at a High Rate Following Hip Arthroscopy for Femoroacetabular Impingement Arthroscopy. 2017 Apr; 33(4):748-755. . View in PubMed
Prospective Clinical and Radiographic Outcomes After Concomitant Anterior Cruciate Ligament Reconstruction and Meniscal Allograft Transplantation at a Mean 5-Year Follow-up Am J Sports Med. 2017 Mar; 45(3):550-562. . View in PubMed
Quadriceps Tendon Rupture in an Adolescent Athlete Case Rep Orthop. 2017; 2017:2718013. . View in PubMed
Arthroscopy. 2017 Jan; 33(1):108-115. . View in PubMed
Imaging for Nonarthritic Hip Pathology Am J Orthop (Belle Mead NJ). 2017 Jan/Feb; 46(1):17-22. . View in PubMed
Stem Cells in Orthopedics: A Comprehensive Guide for the General Orthopedist Am J Orthop (Belle Mead NJ). 2016 Jul-Aug; 45(5):280-326. . View in PubMed
Imaging in Hip Arthroscopy for Femoroacetabular Impingement: A Comprehensive Approach Clin Sports Med. 2016 Jul; 35(3):331-344. . View in PubMed
Malalignment: A Requirement for Cartilage and Organ Restoration Sports Med Arthrosc Rev. 2016 Jun; 24(2):e14-22. . View in PubMed
Glenohumeral kinematics after soft tissue interposition graft and glenoid reaming: A cadaveric study Indian J Orthop. 2016 May-Jun; 50(3):303-10. . View in PubMed
An Algorithmic Approach to the Management of Recurrent Lateral Patellar Dislocation J Bone Joint Surg Am. 2016 Mar 02; 98(5):417-27. . View in PubMed
Editorial Commentary: The Search for the Cartilage "Holy Grail": Are We There Yet? Arthroscopy. 2016 07; 32(7):1451-2.. View in PubMed
Capsular Management in Hip Arthroscopy: An Anatomic, Biomechanical, and Technical Review Front Surg. 2016; 3:13. . View in PubMed
Complications in Hip Arthroscopy: A Systematic Review and Strategies for Prevention Sports Med Arthrosc Rev. 2015 Dec; 23(4):187-93. . View in PubMed
The Hyperflexible Hip: Managing Hip Pain in the Dancer and Gymnast Sports Health. 2015 Jul; 7(4):346-58. . View in PubMed
Nonsurgical management and postoperative rehabilitation of medial instability of the knee Sports Med Arthrosc Rev. 2015 Jun; 23(2):104-9. . View in PubMed
Tibial and Femoral Tunnel Changes After ACL Reconstruction: A Prospective 2-Year Longitudinal MRI Study Am J Sports Med. 2015 May; 43(5):1147-56. . View in PubMed
Aseptic hip pneumarthrosis following modular total hip arthroplasty: a potential mimic of hip infection Emerg Radiol. 2015 Apr; 22(2):211-4. . View in PubMed
The Natural History of Femoroacetabular Impingement Front Surg. 2015; 2:58. . View in PubMed
Delayed presentation of pharyngeal erosion after anterior cervical discectomy and fusion Case Rep Orthop. 2015; 2015:173687. . View in PubMed
Is the all-arthroscopic tibial inlay double-bundle PCL reconstruction a viable option in multiligament knee injuries? Clin Orthop Relat Res. 2014 Sep; 472(9):2667-79.. View in PubMed
The biomechanics of throwing: simplified and cogent Sports Med Arthrosc Rev. 2014 Jun; 22(2):72-9. . View in PubMed
Relevance of bone anomalies in patients with thoracic outlet syndrome Ann Vasc Surg. 2014 May; 28(4):924-32. . View in PubMed
The approach to the evaluation and surgical treatment of mechanical hip pain in the young patient: AAOS exhibit selection J Bone Joint Surg Am. 2013 Sep 18; 95(18):e133. . View in PubMed
A review of imaging modalities for the hip Curr Rev Musculoskelet Med. 2013 Sep; 6(3):226-34. . View in PubMed
Symptomatic Aseptic Hydrogen Pneumarthrosis as a Sign of Crevice Corrosion Following Total Hip Arthroplasty with a Modular Neck: A Case Report JBJS Case Connect. 2013 Jul 24; 3(3 Suppl 1):e761-6. . View in PubMed
Symptomatic Aseptic Hydrogen Pneumarthrosis as a Sign of Crevice Corrosion Following Total Hip Arthroplasty with a Modular Neck: A Case Report JBJS Case Connect. 2013 Jul-Sep; 3(3):e76. . View in PubMed
Novel method for ensuring leg length in total hip arthroplasty Orthopedics. 2013 Apr; 36(4):e401-3. . View in PubMed
Am J Sports Med. 2007 Dec; 35(12):2045-50. . View in PubMed